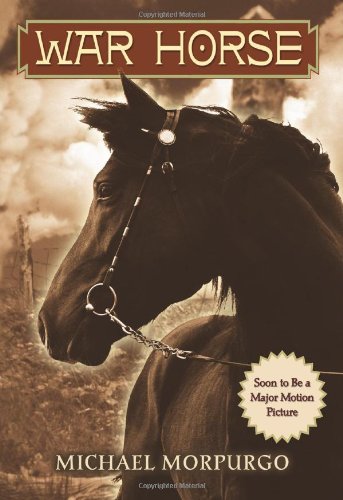 Publisher's Note:
A powerful tale of war, redemption, and a hero's journey--now available in paperback!

In 1914, Joey, a beautiful bay-red foal with a distinctive cross on his nose, is sold to the army and thrust into the midst of the war on the Western Front. With his officer, he charges toward the enemy, witnessing the horror of the battles in France. But even in the desolation of the trenches, Joey's courage touches the soldiers around him and he is able to find warmth and hope. But his heart aches for Albert, the farmer's son he left behind. Will he ever see his true master again?
War Horse
by Michael Morpurgo
Overall Review:
This short, gently paced book is the basis for both a prize-winning play and a movie directed by Steven Spielberg that premiers in December 2011. It tells the story of one of the million horses used by the British in World War I—and of one of the 65,000 horses who actually returned to Britain after the war.
Told entirely from the perspective of the horse Joey, the story begins when Joey is sold at auction to a drunken farmer. The farmer is violent and scary, but his thirteen-year-old son, Albert, admires Joey's spirit and beauty and becomes Joey's trainer.
A few years later when war is declared, Albert's father secretly sells Joey to the army; there's nothing Albert can do but beg the cavalry captain to take good care of his horse.
Even though this is a book about war, it's not as violent as I expected, mentioning casualties without any graphic portrayals. Since the book is told from Joey's point of view, the reader doesn't get a sense of the war as a whole, though the book could be a good jumping off point for studying World War I in more depth.
The book does have an anti-war message, but it's not blatant and suggested to me the realistic feelings of some soldiers in war time.
The book is episodic; each chapter has interesting events in it, but the book doesn't have a plot that sucks the reader in and won't let go. I was surprised that a teacher on Amazon recommended the book as a good one for reluctant readers, but readers who become interested in Joey and his experiences will want to keep reading. I'm sure that animal lovers and history buffs will find the book fascinating.
Reading Level: 7, range 5.8-8.7.
Of interest to boys and girls
This review has been acquired and adapted from CleanTeenReads.com.
Content Analysis:
This review was acquired from CleanTeenReads.com on May 15, 2014 and was not completed using Compass Book Ratings' standardized checklist. Nevertheless, it contains useful content information which is included here. The overall number ratings have been approximated based on this information.
10 G*d, 2 h*ll, h*llfire, h*llhole


Joey fights against men trying to catch him and take him home; owner drags Joey home, hurting Joey's neck and face; owner hits other horse with crop; threatens to "whip [Joey] till [he] bleeds"; Joey kicks owner, injures owner's leg, owner wants to shoot him; Albert "flashes a whip at" Joey as he's teaching him to plow; mention of assassination of archduke Ferdinand precipitating World War I; mention of Germans invading Belgium; father yells at Albert; ex-jockey uses whip and spurs on horses; Joey tries to buck ex-jockey off a couple of times; captain says others think "cavalry will smash through [German lines] and throw [the Germans] clear back to Berlin before Christmas," but captain says, "one machine gun . . . could wipe out an entire squadron of the best cavalry in the world"; mention of charge of the Light Brigade and Franco-Prussian War; mention that sabers not enough, cavalry must learn to "shoot straight" to "win this war"; mention of "unending lines of wounded waiting" to return to England by ship, some "on stretchers, on crutches, in open ambulances, and etched on every man was the look of wretched misery and pain"; as they near front, hear sound of rifles and of "big guns"; in first battle, Joey "suddenly found that [he] had no rider"—captain killed; Joey runs at German soldiers, "they scatter"; "quarter of [British] squadron killed," including "dead and dying" horses; trooper tells Joey about his horse being shot from under him; Joey hears sound of "rifle fire" and "machine guns," mentioned frequently; after battles, "there were always one or two horses without riders"; mention of soldiers "struggling back haggard and silent"; mention of old woman dying in sleep; mention of many horses dying during winter; mention of devastation of war to countryside; cavalry fired on as they charge, mention of "horses rearing and screaming," shells "throwing horses and riders clear into the air"; hidden wire placed in trees, horses caught in it; one rider shots his horse, dies himself on wire; German soldiers surround Joey and another horse; mention of "riderless horses," "hillside . . . strewn with the dead and dying," charge called "useless slaughter"; rest of horses caught in wire are shot; mention of wounded soldiers, man's head and one eye bandaged, limping; doctor talks about wounded who may die if not transported to field hospitals; mention of battle with road "littered with the corpses of mules and men," walking wounded; mention of "hauling dying and wounded back from the trenches"; mention throughout of shelling; mention of Emilie's parents killed by shell in first week of war; mention of wounded who were "blinded by gas"; mention of "guns lined up only a few yards apart for miles and miles," of "interminable" "lines of wounded"; horses sometimes whipped; two horses die, one hit by shrapnel, not graphic; Joey's friend Topthorn dies from overwork, exposure; shelling of resting soldiers described, men screaming, trees falling, old gunner hit, dies near Topthorn; Joey runs into barbed wire, injures foreleg getting free; mention of "weeping widows and crying children"; mention that Joey could have died like so many other horses or been sent to "Palestine with the cavalry"; mention of bringing wounded horses to veterinary hospital; mention of progress of war; report of Albert's friend killed along with two horses; report of Emilie's death; mention that "real heroes" of war died in France, list of characters in book who died.
Mature Subject Matter:
War, animal cruelty, death
Alcohol / Drug Use:
Farmer's voice "thick with drink"; son comments repeatedly on his father's being drunk, he's "always drunk on market days," later mention that he gets drunk weekly; comes to Joey's stall drunk; mention of soldiers smoking; joke about farm boys being raised on hard cider.
Reviewed By CleanTeenReads