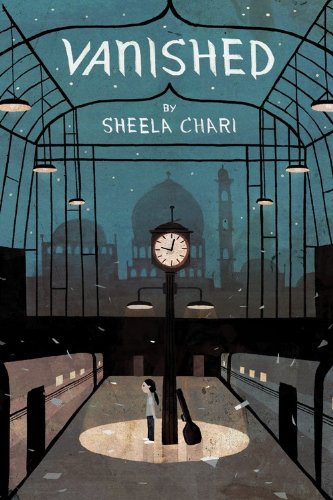 Publisher's Note:
Eleven-year-old Neela dreams of being a famous musician, performing for admiring crowds on her traditional Indian stringed instrument. Her particular instrument was a gift from her grandmother-intricately carved with a mysterious-looking dragon.

When this special family heirloom vanishes from a local church, strange clues surface: a tea kettle ornamented with a familiar pointy-faced dragon, a threatening note, a connection to a famous dead musician, and even a legendary curse. The clues point all the way to India, where it seems that Neela's instrument has a long history of vanishing and reappearing. Even if Neela does track it down, will she be able to stop it from disappearing again?
Vanished
by Sheela Chari
Overall Review:
Sixth-grader, Neela Krishnan loves playing her veena, a stringed instrument from India, given to her by her grandmother. One day she takes it to school to give a report on it. On the way home, a man invites her into a church to shelter from the rain, insists she leave it in a closet while he gets her some hot cocoa, and when she goes to get her veena, it's disappeared!
Neela can't understand why her mother doesn't seem interested in recovering the veena until she eavesdrops on her parents talking about it—her mother believes the veena is cursed, and that it would be bad luck to try to recover it.
Neela will take on the task of finding the veena herself. She and her new friend Matt will tail Lynne, a classmate who seems to know more than she's telling about the veena; Neela will learn about the dragon depicted on her veena's pegboard, a wyvern and she'll begin finding wyverns in all kinds of places; and she and her friends will chase the thief and confront him.
I like the puzzle aspects of the story that take Neela in all different directions as she searches for clues to what happened to her veena. I like that in the course of her search, Neela wrestles with acting in ways she knows are wrong to try to recover her veena from those who have done her wrong.
My biggest complaint about the book is the pacing—it's gentle until the end of the book (page 244) when Neela goes to India with her family
Reading Level: 5.8, range 3.7-7.4.
Of interest to girls
Children's Literature Honor Book, Asian Pacific-American Library Association, 2012
This review has been acquired and adapted from CleanTeenReads.com.
Content Analysis:
This review was acquired from CleanTeenReads.com on May 15, 2014 and was not completed using Compass Book Ratings' standardized checklist. Nevertheless, it contains useful content information which is included here. The overall number ratings have been approximated based on this information.
8 G*d, OMG; d*mn


Train hits cow, derails, mention that no passengers in one car survived; friend suggest Neela's brother could set rug on fire; mention of death in train wreck of famous veena player, her husband and seventy additional passangers; mention of teacher hitting students' hands with ruler; bus almost hits car; Neela says Hal "would have whacked [her] on the head" if he'd "wanted to hurt [her]"; mention of hurtful words feeling like being kicked in stomach; thief tries to push Neela from train, she falls so her upper body's in train, her legs hanging out; mention of number of people killed by jumping onto trains.
Mature Subject Matter:
Theft
Alcohol / Drug Use:
Mention of "smell of cigarettes" on the street; mention of man "chewing on a thin cigarette."
Reviewed By CleanTeenReads