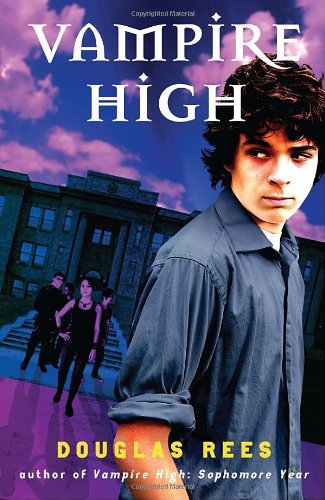 Publisher's Note:
It doesn't take long for Cody Elliot to realize that his new high school is a little different. The other students are supernaturally strong, don't like the sunlight, and are always placing orders at the local blood bank. When his new friend shows him his fangs, Cody doesn't need any more clues—these kids are vampires! As Cody struggles to fit into this secretive community, he disrupts centuries of human-vampire segregation, with some serious—and some seriously funny—consequences.

In sharp, humorous, and insightful prose, Douglas Rees creates a world of vampires where the real issue for humans is not the fear of being bitten, but the need to get along.
Vampire High
by Douglas Rees
Overall Review:
Ninth-grader Cody Elliot is deliberately failing at school, so his dad decides to find him a different school. Our Lady of Perpetual Homework sounds pretty scary, so Cody transfers to Vlad Drac Magnet School.
At Vlad Drac, Cody sticks up for a boy who's being bullied, and as the two become friends, Cody gradually learns that almost all the other students at the school are vampires. All the school wants is a non-vampire who can be on the water polo team—it's a state requirement to have water sports, and vampires can't get in water.
Cody can get straight A's without doing any work, he can get into any college he want, and he doesn't even have to play water polo—just show up and lose.
Cody never knew a free ride could feel so bad.
From the first page, the book moves along at a brisk pace, culminating in a final water polo game. Along the way, Cody falls for the vampire Ileana, donates some blood for his friend, decides he wants to earn his own grades, and helps the vampires discover some new abilities they never knew they had.
Reading Level: 4.9, range 3.2-6.6.
Of interest to boys and girls
This review has been acquired and adapted from CleanTeenReads.com.
Content Analysis:
This review was acquired from CleanTeenReads.com on May 15, 2014 and was not completed using Compass Book Ratings' standardized checklist. Nevertheless, it contains useful content information which is included here. The overall number ratings have been approximated based on this information.
5 G*d; 8 h*ll, 13 d*mn

Four bullies are ready to throw a boy in creek in winter, boy thinks he'll die; hero throws snowball at one bully to make him put boy down and insults bullies; hero's picked up and thrown to each of bullies, kicked, shoved, slapped in face; hero kicks one of bullies in crotch and keeps fighting; one bully tells others to kill hero; hero attacked by other members of swim team, tripped, repeatedly kicked; vampire friends throws swim team members in the pool; vampires don't bite humans, they buy blood to drink.

A couple of kisses, not graphic.
Mature Subject Matter:
Vampires
Alcohol / Drug Use:
Swimming coach, minor character, is alcoholic, drinks beer and has it around all the time, called a drunk; hero's parents drink wine and give him enough that his head starts buzzing and he goes to bed without supper.
Reviewed By CleanTeenReads