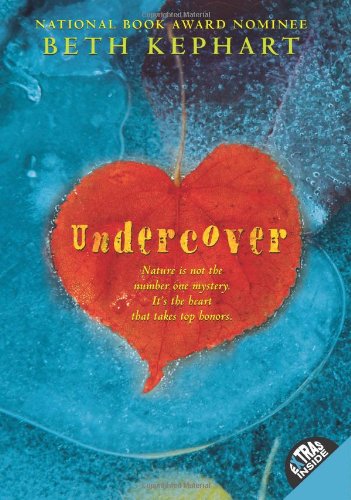 Publisher's Note:
Like a modern-day Cyrano de Bergerac, Elisa ghostwrites love notes for the boys in her school. But when Elisa falls for Theo Moses, things change fast. Theo asks for verses to court the lovely Lila—a girl known for her beauty, her popularity, and a cutting ability to remind Elisa that she has none of these. At home, Elisa's father, the one person she feels understands her, has left on an extended business trip. As the days grow shorter, Elisa worries that the increasingly urgent letters she sends her father won't bring him home. Like the undercover agent she feels she has become, Elisa retreats to a pond in the woods, where her talent for ice-skating gives her the confidence to come out from under cover and take center stage. But when Lila becomes jealous of Theo's friendship with Elisa, her revenge nearly destroys Elisa's ice-skating dreams and her plan to reunite her family.National Book Award nominee Beth Kephart's first young adult novel is a stunning debut.
Undercover
by Beth Kephart
Overall Review:
Tenth-grader Elisa Cantor loves words, poetry and nature, and she's convinced herself that she's happy in her role as an observer on the side lines, an undercover agent. She's not beautiful like her mother and sister—she looks like her father whose work has always taken him away from home. But recently he's been staying away more than ever, and there are phone calls late at night that leave her mother crying.
At school, Elisa's specialty is writing love notes and poems for boys who want to woo other girls. When cute Theo Moses asks for Elisa to help him win one of the most beautiful girls in the school and when the class start reading Cyrano de Bergerac in English, Elisa starts feeling less satisfied with her invisible life.
Elisa decides, "the greatest tragedy of all is letting invisibility win. It's choosing to give up the thing you want because you think you don't deserve it." Elisa decides to begin asking for what she wants.
Here's what I like about the book: Elisa's mother acknowledging her part in her husband's unwillingness to come home; Elisa's deciding to ask for what she wants; her father's actions (that provide a suggestion of a possible reconciliation without it seeming forced or a too-neatly-wrapped-up ending).
There was one odd thing about this book for me—although it's a book written in 2007 that seems to be about the present day, there's no email, no cell phones, no texting, no instant messaging. Elisa's father communicates with the family by letters and postcards and by phone calls with his wife, apparently never even speaking by phone to his daughters. Elisa asks her dad to come to her skating competition by sending him a letter. Teens who like the book may not even notice this oddity.
Pacing: This lyrical book will appeal to readers who become interested in Elisa—it's not one with a rip-snorting plot. It gradually builds, getting exciting about page 71. It quiets down again at page 145, heating up again at the end as Elisa decides she's not going to stay invisible.
Reading Level: 9.1, range 7.1-10.4.
Of interest to girls
Content Analysis:
This review was acquired from CleanTeenReads.com on May 15, 2014 and was not completed using Compass Book Ratings' standardized checklist. Nevertheless, it contains useful content information which is included here. The overall number ratings have been approximated based on this information.
2 G*d, 2 h*ll

Verbal fights at home and at school; girl ruins Elisa's dress.

"Lovers" used to describe couples who are dating, not physically intimate; one brief kiss not graphic.
Mature Subject Matter:
None
Alcohol / Drug Use:
None
Reviewed By CleanTeenReads