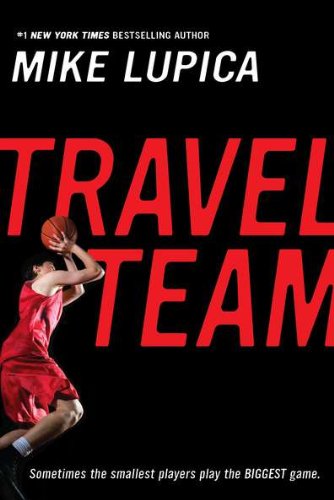 Publisher's Note:
The #1 Bestseller!

Twelve-year-old Danny Walker may be the smallest kid on the basketball court -- but don't tell him that. Because no one plays with more heart or court sense. But none of that matters when he is cut from his local travel team, the very same team his father led to national prominence as a boy. Danny's father, still smarting from his own troubles, knows Danny isn't the only kid who was cut for the wrong reason, and together, this washed-up former player and a bunch of never-say-die kids prove that the heart simply cannot be measured.

For fans of The Bad News Bears, Hoosiers, the Mighty Ducks, and Mike Lupica's other New York Times bestselling novels Heat, The Underdogs, and Million-Dollar Throw, here is a book that proves that when the game knocks you down, champions stand tall!
Travel Team
by Mike Lupica
Overall Review:
Twelve-year-old Danny Walker doesn't just like basketball, he eats, breathes, and sleeps it. He's short, but he's quick—just like his dad. This year, like the two years before, Danny tries out for the travel team. The seventh-grade travel team is the big one, the one that might take the team all the way to the nationals, where years ago his dad put their town on the map by winning the game. Only Danny doesn't make the team.
Danny's dad doesn't come around much, doesn't work much, doesn't do much besides hang out at the bar when he's in town, but Danny's dad decides to create another travel team
Danny despairs of his team ever winning anything. They're just not good enough, even when his dad recruits the best girl basketball player to play with them.
Does the team make it to the nationals? Do they win the championship? Lupica makes the book exciting and the basketball action believable.
The book doesn't use non-stop action to keep the reader's interest; instead, it presents Danny's distress on page 5—"the worst night of his whole life"—and explains it on page 9—"he didn't make travel team." Readers must relate to Danny's problems and the gradual working out of the solutions to get to the basketball action, including the exciting final national game. (Because the book was published in 2004, the references to pro basketball players are a bit dated
Reading Level: 6.2 (range 5.2-8.3).
Also good for reluctant readers
Of interest to boys and girls
This review has been acquired and adapted from CleanTeenReads.com.
Content Analysis:
This review was acquired from CleanTeenReads.com on May 15, 2014 and was not completed using Compass Book Ratings' standardized checklist. Nevertheless, it contains useful content information which is included here. The overall number ratings have been approximated based on this information.
5 G*d/d*mn, Chr*ssakes; 4 *ss, 6 d*mn, fr*gging, 6 h*ll, h*ll-bent, "sh…,"—word not completed, 2 "sh . . . stuff,",jack*ss, 9 pissed (angry),"bitching and moaning".

Father angry that his boy is playing with Danny's team; Danny attacks mean boy when he insults Danny's dad, knocks him to the floor, ready to hit him in the face when fight is stopped; mean boy hits Danny "in the neck with an elbow" during game, elbows him in side later in game, Danny later shoves him back, friend on the other team falls on mean boy, friend breaks his wrist because of Danny's shove; Danny's dad in car accident, not described; friend's mother pinches his arm when he jokes around; dad balls out his son, pokes him in chest, grabs son when he tries to leave, son shakes off dad's arm and walks away with his mom; dad gets angry when son decides to play for rival team; friend slaps Danny's back where he's hurt, not knowing about his injury; mean boy realizes Danny's back hurts and slaps him there, Danny yells with pain, boy slaps him again, grabs Danny from behind, knocks him down "like it was a football tackle."
Mature Subject Matter:
Alcoholism
Alcohol / Drug Use:
Danny's mom drinks wine, dad drinks two beers, accepted; mention of sports "bad boys" who need drug rehab; Danny realizes his dad's gone to a bar, implication that he's a drunkard, repeated; Danny sees his dad in bar, twice; Danny's mom accuses his dad of being hungover, calls him a drunk; Danny wants his dad not to be hungover; Danny's dad tells him he was drunk when he lost control of his car years ago, tells Danny he used to drink after a game, drank a six-pack night before his accident; tells Danny that "the thing that started everything—drinking—is the thing I kept turning to" after his life fell apart.
Reviewed By CleanTeenReads