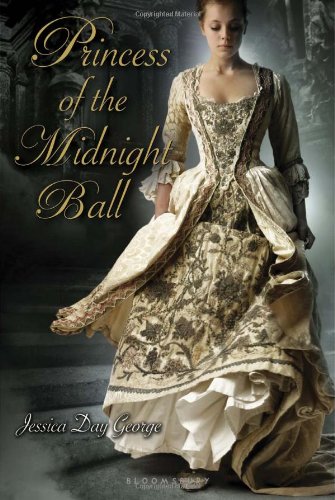 Publisher's Note:
Rose is one of twelve princesses forced to dance through the night in an underground palace. The key to breaking the spell lies in magic knitting needles, an invisibility cloak, and—of course—true love. Inspired by "The Twelve Dancing Princesses,"this novel is as captivating as it is fresh. Enchanted readers are sure to clamor for the new companion, Princess of Glass, also publishing this season.
Princess of the Midnight Ball
by Jessica Day George
Overall Review:
When I was young, I always liked best the fairy tales where it was not a prince who rescued the princess but a commoner who was required to take on superhuman tasks to win the hand of the princess.
The hero of this story is Galen, an ex-soldier and undergardener at the palace. His love for seventeen-year-old Rose, the eldest princess, leads him to try to solve the mystery of the twelve princesses who never leave their bedrooms at night but whose dance slippers are mysteriously worn out each morning.
Galen takes on this task with no expectation of a reward and with the knowledge that failure will lead to his death. His generosity, bravery, and resourcefulness help him free the princesses from the spell they're under. Not only does Galen succeed through his own merits, he's uncertain of what to do and has to improvise and guess, but he still succeeds.
The author has set her story in a place "much like" Germany of the early 1800s, but it is a Germany with witches or magicians—both good and evil. The good ones have magical objects such as an invisibility cloak and magical yarn (sounds odd, but it works in the story). They use plants that traditionally have magical properties—branches from a rowan tree and sprigs of nightshade and basil. And in at least one instance, a "wise woman" teaches the queen a magic spell.
A concern for me was trying to remember which princess was which. All twelve are named, and all are named for flowers. I quickly stopped trying to keep them all straight and found it's not necessary. The author divides the girls into three groups, the three oldest ones, the three youngest ones, and the "in-betweeners," so I had a general idea of what their ages were even if I couldn't remember all the names.
One of the princesses is very religious and there's a priest and two bishops—one good and one not. Though not identified, the religion sounds like Catholicism.
At the end of the book, there's a note about male knitters—Galen knows how to knit—and there are knitting patterns for the shawl and chain Galen knits.
The story has a gentle pace with a few exciting parts that move more quickly. Readers who enjoy the book will become interested in the characters and in the working out of the fairy tale.

Reading Level: 6.8, range 5.1-7.6.
Of interest to girls
This review has been acquired and adapted from CleanTeenReads.com.
Content Analysis:
This review was acquired from CleanTeenReads.com on May 15, 2014 and was not completed using Compass Book Ratings' standardized checklist. Nevertheless, it contains useful content information which is included here. The overall number ratings have been approximated based on this information.
H*ll—the place, d*mnation—the theological condition


Galen saw first battle at age seven, helped care for wounded, saw mother cleaning "enemy blood" from father's uniform; Galen's mother died of "lung sicknes," sister died when supply wagon fell in river; Galen's father killed in war; Galen later tells relative how each of them died; Galen unknowingly kills man who killed his father, slightly graphic; queen died when youngest child was two; Galen hits strange figure in face with rowan branch, slashes at others; princess shoots warning shot at strange figure; princes who come to try to solve mystery of princesses die, one killed by highwaymen, two kill each other in duel, ship sinks, horse bucks rider off, horse tramples another—claims that they're "clever assassinations"; one princess pretends to smother another with pillow; Rose imagines stuffing handkerchief in prince's mouth, hitting him over head to silence him; Galen fears governess will be hanged for witchcraft; princess wishes she'd never been born, that country had lost war; mention of man losing leg in war; Galen asked if he saw cousin die in war; Rose fears Galen will "die horribly" if he discovers their secret, another princess says his attempt to help is his "death sentence"; mention of riots in other parts of country because of Interdiction, rocks thrown at palace and house of palace gardener; princess whacks underworld prince with fan; King Under Stone plans "princely death" for Galen; townspeople riot, want governess hanged, want Interdict ended; guard smacks Galen on back of head; bishop knocks Galen out with pistol; Galen stabs, kills King Under Stone with silver twig; Galen and princess fire at underworld princes who are chasing them, Galen bayonets one; prince grabs Rose, drags her toward lake; Galen stabs him in heart with silver twig; two guards apparently attacked—one with "swollen nose," one with "bruised jaw."


Mention that soldiers spend time "wenching"; tale of daughters kept in a tower, one night wailing is heard, and the next morning, each daughter has a child, "black magician" is "their sire"; mention of barren woman suddenly having children; mention of prince's "clumsily suggestive remarks"; underworld prince says princess as heavy as if she wore "iron underthings"; Galen kisses Rose, not graphic.
Mature Subject Matter:
None
Alcohol / Drug Use:
Galen wonders if his mother's family are drunkards—they're not; family members drink glass of wine to celebrate Galen's return; mention of ambassadors being "wined and dined" at the palace; king and friend drink brandy and smoke cigars; king drinks brandy with close advisors; Galen's uncle smells of wine; wine served at ball in underworld, mention of guests sipping wine; Galen several time drinks goblet of wine at underworld ball.
Reviewed By CleanTeenReads