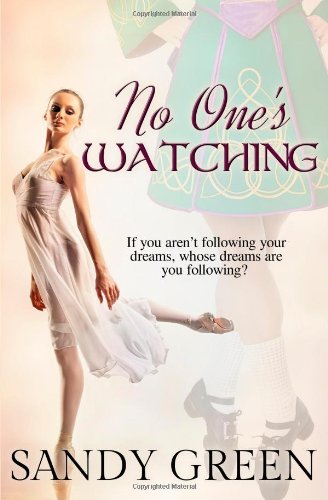 Publisher's Note:
The classical romanticism of Swan Lake meets the raw energy of Riverdance in NO ONE'S WATCHING. High school freshman Kitri Othersen is expected to follow in her mom's and grandmother's turned-out footsteps - dance in a ballet company and then teach at the family dance studio. And she loves the idea. Right? Not exactly. At summer dance camp, Kitri isn't chosen for a ballet role at the end-of-camp performance. Ironically, she's placed in an Irish dance duet, a form of dance her mother, for some inexplicable reason, hates. Soon Kitri realizes that she's falling in love with everything about Irish dance, including her partner Blake. When her archrival is in-jured, Kitri is offered the coveted ballet piece in place of Irish dance. Kitri has to decide whether to crush her mom's hopes or tie a Celtic knot to her new passion and hang on. After all, if you aren't following your dreams, whose dreams are you following?
This book was sent to Compass Book Ratings for review by the Author
No One's Watching
by Sandy Green
Overall Review:
A change of pace from my usual preference of accelerated fantasy fiction with deep intrigue, Sandy Green's No One's Watching was a definite sashay-step leap in a different direction. Acquaint yourself with first position as you prepare to follow Kitri Orthersen while she attends summer dance camp. Learning more than just an Irish slip jig, Kit also learns the meaning to live and dance like no one's watching.
Since this book is tailored for a younger audience, my one concern was the way the author describes a female character's hip bones as protruding and then has that same character worry about being overweight or eating too much. Even though this may be a realistic and accurate portrayal of a dancer's struggle with a healthy body image, I would have preferred the female character to have a healthy mindset about her body and to relish in the amazing feats her strong body could accomplish instead of automatically punishing herself with negative self-talk and body shaming.
That aside, by using specific language and mannerisms, the author made both her male and female teen characters seem quite realistic. There were times when the scenes could be overly descriptive (the author goes through every menial detail of the protagonist's day with no real intent towards the plot) and times when some scenes were a bit choppy. However, overall this novel came together. The author even threw in some comedic moments so every scene wasn't based specifically on how the main character just had to have a ballet solo to please her critical mother and ailing grandmother. Throw in a crush-worthy dance partner and an arch enemy dance rival and you have a cute, entertaining read for tweens and teens!
Content Analysis:
Profanity/Language: None
Violence/Gore: Character accidentally rams into a piano, no serious injury reported; few occasions where characters engage in menial verbal threats; brief scene of a character receiving injuries while in a storm; few mentions of character receiving dance related injuries; character stubs toe, blood mentioned.
Sex/Nudity: Teen characters kiss and hold hands on a few occasions, mention of "making out"; brief scene of teen characters in a hot tub, mention of one character's tiny bathing suit, guy character offers to give girl character a massage while in hot tub; character's mother says she "become close" with character's father resulting in an unplanned pregnancy; two separate accounts of infidelity in marriage.
Mature Subject Matter:
Infidelity in marriage, Parkinson's disease, single parenthood, unknown parentage.
Alcohol / Drug Use:
Mention of underage characters possibly going to a club/bar.
Reviewed By MaryLou