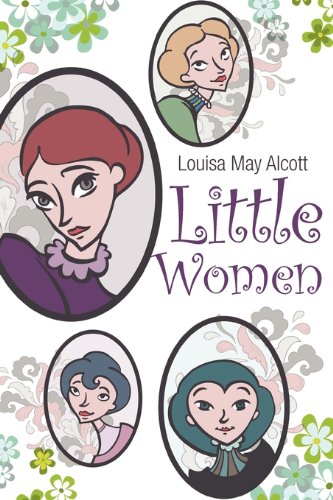 Publisher's Note:
Little Women is one of the best loved books of all time. Lovely Meg, talented Jo, frail Beth, spoiled Amy: these are hard lessons of poverty and of growing up in New England during the Civil War. Through their dreams, plays, pranks, letters, illnesses, and courtships, women of all ages have become a part of this remarkable family and have felt the deep sadness when Meg leaves the circle of sisters to be married at the end of Part I. Part II, chronicles Meg's joys and mishaps as a young wife and mother, Jo's struggle to become a writer, Beth's tragedy, and Amy's artistic pursuits and unexpected romance. Based on Louise May Alcott's childhood, this lively portrait of nineteenth-century family life possesses a lasting vitality that has endeared it to generations of readers.
Little Women
by Louisa May Alcott
Overall Review:
It's easy to see why this book, originally published in 1868, is still considered a classic. Little Women is a lovely story of coming-of-age and self-discovery for Jo March, the most strong-minded of the four March sisters. I felt like I could absolutely identify with Jo's struggles to control her temper and fit in with her demure, ladylike sisters! I loved following Jo's progress as she makes friends, deals with heartbreaks, and eventually strikes out to make her mark on the world—and finds romance into the bargain! Little Women is full of great morals and profound truths, but it never feels overly preachy; Jo's own struggles and imperfections make it easy to empathize with her and be inspired by her example. Jo's story is one that I return to every few years, and think of often!
Content Analysis:
Written in the late 1860s for young girls, Little Women has no profanity, violence, or sexual content. There is some mild romance in the latter half the book, and several characters get married.
Although there are no expletives that would be considered offensive to a modern reader, Jo does use period slang (words like "awful" and "Christopher Columbus!") that are considered inappropriate by her family.
There are a few very mild mature themes that may not be suitable for very young readers. A character in the novel becomes very sick and eventually dies. Another character spends most of the novel away fighting in the Civil War; though his storyline is not followed directly and his war experiences are not described at all, he does receive a wound and come home to convalesce. Although Little Women would certainly be considered appropriate for almost any age group, the length, classic language, and storyline are probably best suited to slightly older readers.
Mature Subject Matter:
***
Alcohol / Drug Use:
***
Reviewed By CindyB