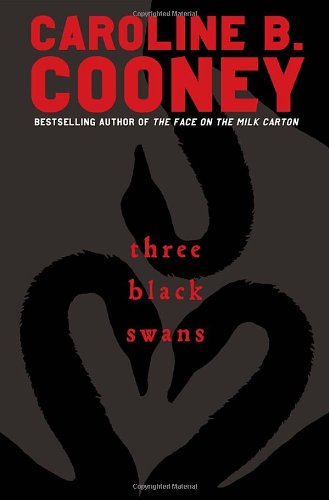 Publisher's Note:
Lives are in the balance in bestselling author Caroline B. Cooney's newest young adult thriller, Three Black Swans.

Missy and her cousin Claire are best friends who finish each other's sentences and practically read each other's minds. It's an eerie connection—so eerie that Missy has questions she wants to put to her parents. But she's afraid to ask. So when Missy hears an expert discussing newborn babies on the radio, it makes her wonder about her family.

Missy just can't let go of those nagging questions, and decides to use a school project about scientific hoaxes to try to uncover the answers. She enlists Claire to help. As part of the project the girls perform a dramatic scene that is captured on video at school. After the video is posted on YouTube, Missy and Claire realize that they've opened Pandora's box and much more than they ever imagined has come out. Not only are their identities called into question, but so is the future of everyone involved.

In this riveting, heartrending story by thriller author Caroline B. Cooney, the truth changes the lives of three families—as the bonds of blood must withstand the strains of long-hidden secrets that are at last revealed.


From the Hardcover edition
Three Black Swans
by Caroline B. Cooney
Overall Review:
Sixteen-year-old Missy Vianello and her cousin Claire Linnehan have never been told they're adopted. They have different birthdays and are in different grades in school. However, when her science class talks about scientific hoaxes, sixteen-year-old Missy sees her chance to test out something she's been thinking about—what if she and her cousin really are twins?
Claiming she's been assigned to pull off a hoax, Missy convinces her cousin Claire to come to Missy's school, dressed like Missy, and be interviewed on the school's morning announcements program. Sure enough, they look like identical twins: the same hair style, the same mannerisms, the same faces.
Without asking anyone's permission, the boy in charge of the announcements puts the interview on YouTube, and friends start forwarding it to each other.
Although I recommend this book, I don't think the book gives a realistic portrayal of adoption: The trauma of this kind of situation is not the focus of the story. Abandonment issues are just skimmed over. Attachment problems are not even mentioned. The lies the parents told are quickly forgiven.
However, this is an exciting story and certainly plays well to that fantasy kids have of being adopted or ophans.
Reading Level: 4.9, range 3.2-6.6.
Also good for reluctant readers.
This review has been acquired and adapted from CleanTeenReads.com.
Content Analysis:
This review was acquired from CleanTeenReads.com on May 15, 2014 and was not completed using Compass Book Ratings' standardized checklist. Nevertheless, it contains useful content information which is included here. The overall number ratings have been approximated based on this information.
4 G*d

Genevieve asks sarcastically if she murdered someone, shot someone when she was little; imagines "normal parents" telling her she bit somebody or saying she can't watch crime shows on TV anymore; people yell at Missy because they're offended by the hoax or don't believe it was a hoax; Claire feels fury at Missy, hates her and her birth mother; Genevieve's mother pulls knife from drawer, tries to cut her wrist with it; Genevieve's mother tells about woman who drove to work, forgetting to take her baby to day care, baby is "cooked to death" in car, mentioned again later.

Claire, imagining teen birth mother, sees boy she likes and "in her mind's eye, his clothing fell away," thinks, "some [boy] out there had sex with that girl"; thinks of boy and girl seeing each other, "one thing leading to another and the next thing you know, they're having twins"; thinks "no matter how much the pretend teen mother had enjoyed herself . . . , the result wasn't pretty," imagines the girl gaining weight, "ankle swelling, fatigue and complications," she thinks of tests, including "internal exams," delivery, "then this teenage girl had had to look at these two babies she'd created, shrug and go home"; Claire imagines teenage girl having to "lose weight"; Claire "wrenched her mind off the choreography of sex," thinks of "appalling concept of teen fathers who abandoned their daughters"; mention of mother and her friend "exchanging pregnancy stories"; mention of two sisters having babies at almost the same time, "all that hormone communication"; mention of twins before birth where one has less room than the other; mention that someone's "expecting"; mention of not participating in videos where kids film themselves naked; Genevieve "imagines her real mother as a young girl in high school . . ., imagines her sobbing as the social worker whisked away her babies," imagines mother who's only fourteen; explanation of how triplets occur—number of eggs, eggs splitting, "eggs in the mother"; Genevieve's mother remembers being pregnant, ultrasound showing three girls, considers aborting two of the three, wishes she'd gotten an abortion when she first realized she was pregnant, labor described as "pain and fear" and "intense"; mention of each baby being born, not graphic.
Mature Subject Matter:
Abortion, adoption, child born out of wedlock, teenage sex
Alcohol / Drug Use:
Genevieve's mother says she's afraid of cigarettes, afraid because "they look like such fun," afraid she'd get hooked, so she's never touched one in her life; Genevieve wonders if her parents were "druggies" who "sat around in a stupor" while "Social Services collected the babies"—not true; Missy's mother afraid she's on drugs—not true.
Reviewed By CleanTeenReads