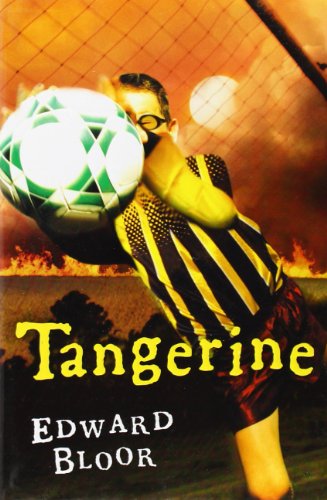 Publisher's Note:
Paul Fisher sees the world from behind glasses so thick he looks like a bug-eyed alien. But he's not so blind that he can't see there are some very unusual things about his family's new home in Tangerine County, Florida. Where else does a sinkhole swallow the local school, fire burn underground for years, and lightning strike at the same time every day?
The chaos is compounded by constant harassment from his football–star brother, and adjusting to life in Tangerine isn't easy for Paul—until he joins the soccer team at his middle school. With the help of his new teammates, Paul begins to discover what lies beneath the surface of his strange new hometown. And he also gains the courage to face up to some secrets his family has been keeping from him for far too long. In Tangerine, it seems, anything is possible.
Tangerine
by Edward Bloor
Overall Review:
This book is on my local library's list of most popular teen books. I can see why—it's a lively story that addresses important issues without labeling them: racism, social inequality, and most of all, dishonesty in the family.
There's mystery—what happened to Paul's eyes? Did he really stare at an eclipse and injure his eyes? Why is he so afraid of his brother Erik? Who is breaking into houses in the neighborhood and stealing people's valuables?
There's exciting soccer—when he's not allowed to play on the soccer team at his school, Paul transfers to the other middle school, the school the poor kids go to. There, Paul gets to play on a champion co-ed team. And he meets Tino whose family owns a tangerine grove, and he meets Tino's older brother who's developed a new type of tangerine.
There's also shocking violence— SPOILER ALERT - Paul finally remembers his older brother forcing his eyes open while his friend sprayed paint in them. A high school football player is killed by a lightning strike during practice. Tino's brother is murdered by Erik's sidekick, at Erik's direction, and Erik and his friend turn out to be the thieves who've been breaking into homes in the neighborhood.
Although the pace for the first 50 pages of the book is quite slow, it's livened by the mystery of what happened to Paul's eyes and by his fear of his brother. On page 50, Paul and his mother hear the shocking news of and from there, the story moves rapidly forward to its climax where painful truths are finally acknowledged.
Reading Level: 6.3, range 4.5-7.7.
Of interest to boys and girls
Content Analysis:
This review was acquired from CleanTeenReads.com on May 15, 2014 and was not completed using Compass Book Ratings' standardized checklist. Nevertheless, it contains useful content information which is included here. The overall number ratings have been approximated based on this information.
3 G*d, "wrath of G*d"; 3 h*ll, h*llish; *ss

Someone in car with baseball bat and ski mask tries to hit Paul, he falls off bike into grass, person smashes mailbox; Paul thinks it's his brother trying to kill him, but it's not; later mentions he's "always been afraid of Erik"; sound of football going into practice net sounds like "some big guys holding up some little guy and punching him over and over in the stomach"; football player killed by lightning, graphic description of strike and of resuscitation attempts, mention later that he's "on a slab at the undertaker's"; Paul told there are gangs at other middle school, "some of them have AK-47s"; Paul imagines modern freak show with "Refrigerator Door Boy, sealed forever to stay fresh"; graphic description of sink hole opening at school, portables falling into sinkhole, kids screaming, some panicking; kids at new school "karate-kicking at each other" and there are "menacing-looking gangs"; boy "swats [Paul] out of the way" with his arm, another slams him "into a locker"; player kicks ball out of Paul's hands, team members threaten each other, then start fighting; rival team "tripped [Paul's team], pulled . . . jerseys, got up in [their] faces, and pretended to throw punches," "throwing elbows"—described as "getting away with murder"; rival fans throw acorns at team members on sidelines; Paul's teammate threatens other team; rival team knocks Paul's teammates down; knocks down one who starts fighting, coach drags him from field; player knocks Paul down, another smears mud in his eyes, Paul fights back, gets pulled from game, his nose bleeds; teammate threatens Paul; game becomes "open brawl"; teammate bleeds from cut on forehead, smacks Paul on back of head; boys start fight in classroom, quickly broken up; mention of two children dying from mosquito bites; mention of man dying of heart attack; friends' brother fell from tree, cracked kneecap, stabbed self with clippers; teammate gives Paul "swift kick in [the] backside" for telling on him; story about coach being hit in eye by rival during track meet; rival player grabs Paul's teammate by hair, turned him around, hit him "full in the face"; Paul hit in face with soccer ball, nose bleeds; Erik "smashes the back of his hand across Tino's face," spinning him around and making him fall, bleeds from cut; Tino's brother confronts Erik, wants to fight him, Erik's friend hits brother on side of head with blackjack, he later dies from it; Tino's brother tells Paul that he and some others are going to fight Erik and his friend again; man sits outside his house with shotgun to protect house from robbers, others fear he may shoot "some late-night jogger"; Tino and friends making threats about what they'll do to Paul; boy tells story about alligator eating child; Paul tells boy about football player killed by lightning, boy who fell from tree with clippers in his hand, fell on them and stabbed himself, boy who stared at solar eclipse and went blind; Tino karate kicks Erik, then knees him in face—says it's for his brother; Tino's friend hits Erik's friend in "his midsection," then hits him repeatedly in head; someone slips in "blood that spilled out of Erik's nose" (mention several times about how bad both Erik and his friend look later); football coach grabs Tino, Paul jumps on coach's back, coach pulls him off by his hair, drops him to floor, Tino gets away; football players drag Paul to coach's office, Paul's dad screams at Paul that he ought to "kill you for that"; Erik and friend threaten Paul with metal bat, blackjack; Paul challenges Erik; Erik breaks headlight of friend's SUV with bat; Paul remembers that Erik grabbed him, pinned his arms, held his eyes open while his friend sprayed paint in them; Erik's friend arrested for murder of Tino's brother; Paul's grandfather says Erik "needed to get his backside whipped for hurting Paul."
Mature Subject Matter:
Racism, social inequality, dishonesty in the family.
Alcohol / Drug Use:
Mother finds cigarette butt behind water heater; dirty ashtray inside guard house.
Reviewed By CleanTeenReads