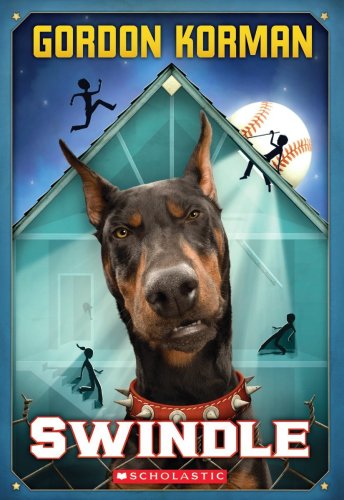 Publisher's Note:
Ocean's 11 . . . with 11-year-olds, in a super stand-alone heist caper from Gordon Korman!

After a mean collector named Swindle cons him out of his most valuable baseball card, Griffin Bing must put together a band of misfits to break into Swindle's compound and recapture the card. There are many things standing in their way -- a menacing guard dog, a high-tech security system, a very secret hiding place, and their inability to drive -- but Griffin and his team are going to get back what's rightfully his . . . even if hijinks ensue.
This is Gordon Korman at his crowd-pleasing best, perfect for readers who like to hoot, howl, and heist.
Swindle
by Gordon Korman
Overall Review:
Eleven-year-old Griffin Bing is The Man with the Plan: he plans a sleepover in a condemned house where he finds a valuable baseball card that he sells; when he realizes he's been swindled, he's the one who plans a break-in to steal the card back.
He assembles a team to help him out: an actor, a dog whisperer, a hacker, a climber. But the plan doesn't work out quite as Griffin expects—there's the frozen turkey, the traitor in their midst, and even his dad's strange invention, the SmartPick Fruit picker.
Griffin is going to learn that crime doesn't pay and that when his disappointed parents confront him, he'll be so sorry! This lighthearted story begins quickly with two boys spending the night in a condemned building, and for the most part, it's a lively story. It lags a bit in Chapter 12, but it picks up again in chapter 13, and builds as it moves toward the final break-in and its aftermath.
RL 4.7, range 2.9-6.4.
Also good for reluctant readers
Of interest to boys and girls.
This review has been acquired and adapted from CleanTeenReads.com.
Content Analysis:
This review was acquired from CleanTeenReads.com on May 15, 2014 and was not completed using Compass Book Ratings' standardized checklist. Nevertheless, it contains useful content information which is included here. The overall number ratings have been approximated based on this information.
G*d twice

Slapstick—stories about what may have happened in an abandoned house—husband killed wife with a chain saw or a spike through her skull or house is haunted by the spirit of a dog that was poisoned by townspeople. Bat gets in one boy's hair. Wrecking ball starts demolishing building before the boys get out. Girl sprains ankle breaking into house. Boy falls from a tree, the branch breaks a window, and the boy falls into the house onto the glass—he's not injured.
Mature Subject Matter:
None
Alcohol / Drug Use:
None
Reviewed By CleanTeenReads