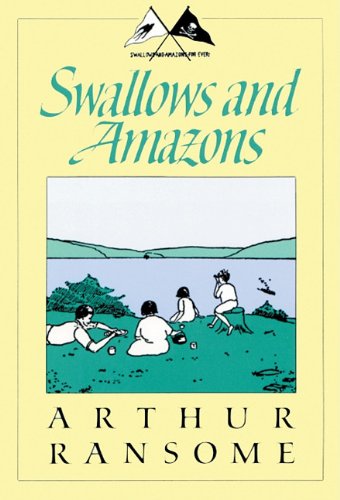 Publisher's Note:
The first title in Arthur Ransome's classic series, originally published in 1930: for children, for grownups, for anyone captivated by the world of adventure and imagination. Swallows and Amazons introduces the lovable Walker family, the camp on Wild Cat island, the able-bodied catboat Swallow, and the two intrepid Amazons, Nancy and Peggy Blackett.
Swallows and Amazons
by Arthur Ransome
Overall Review:
In this novel written in the 1930s, the Walker children—John, Susan, Titty, and Roger— have received permission from their father to take the sailboat, Swallow,and camp on an island in the lake without any grownups with them. (Not something likely to happen in today's world!)
Throughout their adventures, they pretend to be the first white explorers among the "natives"—some of whom are "savages." There's also the man on the houseboat with the parrot and the cannon who is surely Captain Flint, a retired pirate.
And who are the two girls with the other sailboat, the Amazon, that's flying the Jolly Rogers? Is there really buried treasure as Titty claims? And who will have to walk the plank before the story's over?
This delightful book, the first in a series, moves at a gentler pace than today's books, but it livens up around page 96, with exciting chapters alternating with quieter ones as the Amazons and Swallows declare war on each other and then on Captain Flint. If your teens or tweens enjoy the classics, they'll sail through this series. If they're not used to the slower pace of older books, try one of the audio recordings or read it aloud together.
Reading Level: 4.3, range 2.9-5.2.
Of interest to boys and girls
There are many more adventures in the Swallows and Amazons series (11 and 1/2 more books).
This review has been acquired and adapted from CleanTeenReads.com.
Content Analysis:
This review was acquired from CleanTeenReads.com on May 15, 2014 and was not completed using Compass Book Ratings' standardized checklist. Nevertheless, it contains useful content information which is included here. The overall number ratings have been approximated based on this information.
(Almost all the violence is imagined rather than real.) Man on houseboat fires a little cannon; Amazons shoot arrow into Swallows' campfire, shoot arrows at kids also; kids pretend charcoal burners are natives who "cook their prisoners on the fire"; Titty claims charcoal burners may have "eaten hundreds of thousands" of people; Titty talks about sinking uncle's houseboat; uncle fires cannon for pretend war; they have mock fight with cushions, force uncle onto deck, tie him up, force him to "walk the plank"; children imagine themselves caught in typhoon in boats, end up in lifeboats, about to "draw lots [for] who is to be eaten first."


Mature Subject Matter:
None
Alcohol / Drug Use:
Children drink ginger beer—ginger ale, call it "grog"; call their lemonade "rum"; children pretend Amazons engage in "drunken orgies"; mention of a pipe.
Reviewed By CleanTeenReads