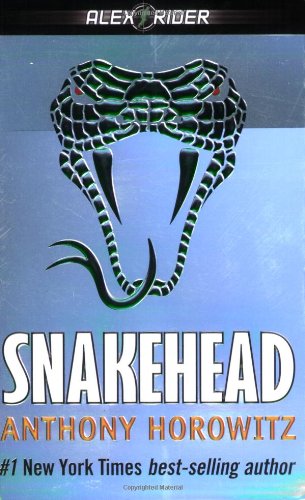 Publisher's Note:
When Alex Rider crash-lands off the coast of Australia, the Australian Secret Service recruits him to infiltrate one of the ruthless gangs operating across Southeast Asia. Known as snakeheads, the gangs smuggle drugs, weapons, and worst of all, people. Alex accepts the assignment, in part for the chance to work with his godfather and learn more about his parents. What he uncovers, however, is a secret that will make this his darkest and most dangerous mission yet . . . and the knowledge that his old nemesis, Scorpia, is anything but out of his life.
Snakehead (Alex Rider, Book 7)
by Anthony Horowitz
Overall Review:
Your teen or tween will probably have little difficulty setting aside disbelief, taking a seat on the adventure roller coaster with young Alex Rider, and enjoying the nonstop action!
A reluctant spy who's worked for Britian's MI6 and the US secret service, in this seventh book, Alex agrees to help the Australian secret service catch a smuggling ring bringing refugees into their country. But he's going to cross swords again with the criminal organization Scorpia. He'll encounter an array of dangers, and he'll use new, ingenious gadgets to make his great escapes.
From the first page where Alex splashes down in the Pacific in a space module, the book races along to an exciting climax involving a bomb, an off-shore oil rig and a possible tsunami.
Reading Level" 4.5, range 2.9-6.1.
Also great for reluctant readers
This review has been acquired and adapted from CleanTeenReads.com.
Content Analysis:
This review was acquired from CleanTeenReads.com on May 15, 2014 and was not completed using Compass Book Ratings' standardized checklist. Nevertheless, it contains useful content information which is included here. The overall number ratings have been approximated based on this information.
1 J*s*s, 5 G*ds, 6 h*lls, 1 d*mn

Chases, hitting, beatings, threats, knife fights, shootings, including use of machine guns; explosions from missiles, grenades and special spy gadgets; fires; building collapses with people inside, hero hears screaming; a crane collapses, injuring criminal; hand-to-hand fighting, some graphic; murders, poisonings, deaths made to look like accidents, a suicide mentioned, a hitwoman. A protype bomb stolen by criminals to create a tsunami expected to kill 10 to 20 thousand people. Hero steps on landmine but figures out a way to get off without losing his leg; mention of hero's parents' death from a bomb on board their plane. Various criminals have scars, mutilations; getaways, chases, fights in boats, vehicles and off-shore drilling rig. Hero sent to hospital where his organs are to be harvested; hero drops filing cabinet on criminal's head, has to kayak through white water and go over a waterfall, chased by helicopter that's firing at him. Hero's godfather shot and killed; every bone in mastermind's body fractures when giant wave hits his yacht.

Disguise artist wants hero to strip to his skin along with adult who's with him—hero gets out of it; half-naked dancers glimpsed (not described) at strip club as hero passes on street; hero told his parents moved in together; adult says he "had fun with quite a few of the wrong [women]"; criminal mentions his mother having an affair; a girl who hero likes brushes past him in a narrow hallway.
Mature Subject Matter:
Death
Alcohol / Drug Use:
Adult smokes a cigar, accepted; adults drink, accepted; adult smokes cigarettes throughout, disapproved; hero wonders if a fighter has been drugged; hero offered beer but refuses.
Reviewed By CleanTeenReads