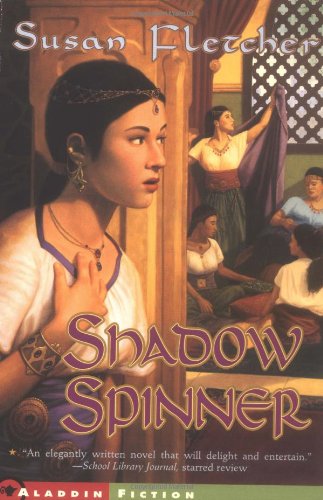 Publisher's Note:
Every night, Shahrazad begins a story. And every morning, the Sultan lets her live another day -- providing the story is interesting enough to capture his attention. After almost one thousand nights, Shahrazad is running out of tales. And that is how Marjan's story begins....

It falls to Marjan to help Shahrazad find new stories -- ones the Sultan has never heard before. To do that, the girl is forced to undertake a dangerous and forbidden mission: sneak from the harem and travel the city, pulling tales from strangers and bringing them back to Shahrazad. But as she searches the city, a wonderful thing happens. From a quiet spinner of tales, Marjan suddenly becomes the center of a more surprising story than she ever could have imagined.
Shadow Spinner
by Susan Fletcher
Overall Review:
In this retelling of One Thousand and One Arabian Nights, Shahrazad's tales have kept the Sultan from killing her for 989 nights, but she's running out of stories to tell. And if she dies, all the girls in the kingdom will be in danger again.
Thirteen-year-old Marjan never dreamed that she could help her hero, Shahrazad, but she knows a story that Shahrazad's never heard.
How can she find the other part of the story, the part the Sultan remembers from his childhood?
I like this story very much: I never thought of how tired Shahrazad would be after over two and a half years of telling stories every night—even the night after giving birth.
The story has a lively pace, with Marjan meeting Shahrazad in the second chapter. Things quiet down in a few places, but the tension mounts as Marjan is smuggled out of the harem, must find the blind storyteller in the market, and get the rest of the story Shahrazad needs to save her life and the lives of all the other beautiful girls in the city.
Reading Level: 4.5, range 2.8-6.0.
Also good for reluctant readers.
Of interest to girls

This review has been acquired and adapted from CleanTeenReads.com.
Content Analysis:
This review was acquired from CleanTeenReads.com on May 15, 2014 and was not completed using Compass Book Ratings' standardized checklist. Nevertheless, it contains useful content information which is included here. The overall number ratings have been approximated based on this information.
Sultan marries a woman then kills her the next morning; killed first wife and all other women in harem except his own mother, mention of fountains running with blood; mermaid hits man on head; Sultan's brother also killing his wives every night; mention that other women in harem "live or die at [Sultan's mother's] whim"; Marjan's mother broke her foot to maim her and keep her safe from Sultan, quite graphic; then mother killed herself with poison; Marjan fears she and Shahrazad's sister will be killed for sneaking out of harem; Sultan's mother slaps Marjan, hits her with closed fist, kicks her repeatedly, has Marjan locked up; Marjan fears she'll be tortured and tell what she knows; Sultan's mother's spy beaten; Marjan horrified at the idea of Shahrazad having a husband who's a murderer and might murder her too; woman tortured to find out what she knew; someone sheltering Marjan fears he and his wife will be tortured, tortured woman killed; story of man who wants to kill robber for stealing; Sultan's mother's spy found drowned in baths.

Mention of the following: in harem, women not all fully dressed; Sultan finding first wife with another man; women wearing "alluring garments" that showed "curved shapes of breasts and hips"; women who aren't virgins not in danger of being married to Sultan; Sultan has married and killed all young virgins; Shahrazad has borne Sultan three sons; man trying to make love to mermaid; king who has 1000 concubines, but none bears him a child; Marjan's step-father loved her mother more than other wives; babies who "turn away from [mother's] breasts" because she doesn't have enough milk; "plump wet nurse feeding the babies." Merchant brings slave girl to king; pregnant mermaid asks for other mermaids to attend birth because mermaids give birth differently; woman in harem strips off Marjan's clothes, bathes her, leaves her in middle of room "naked as a plucked chicken"; Sultan's younger brother's wife unfaithful also; vizier in charge of finding new wives for Sultan; Sultan's mother believes Shahrazad has a lover, not true; Marjan thinks of Shahrazad "lying with the Sultan every night"; step-father wants to divorce Marjan's mother, sell Marjan as slave to Sultan's household; Marjan tells Sultan story of merman king who's betrayed by his wife.
Mature Subject Matter:
Murder, suicide, harems/concubines.
Alcohol / Drug Use:
Woman spy given sleeping drug; Marjan fears food she's given is drugged—it's not.
Reviewed By CleanTeenReads