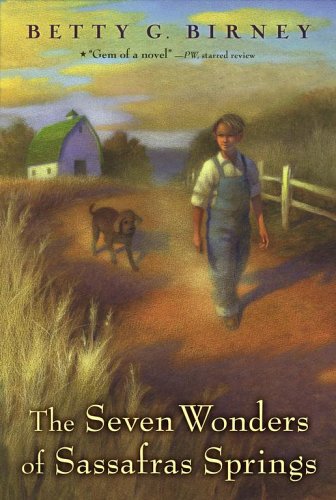 Publisher's Note:
Life in Sassafras Springs has always been predictable, boring even, but one afternoon that changes when Eben McAllister's pa challenges him to find Seven Wonders in Sassafras that rival the real Seven Wonders of the World. The reward? An adventure that Eben's been craving -- a trip to Colorado.

Even doesn't think he'll have any luck -- he can't think of one single thing that could be considered wondrous in Sassafras -- but he's willing to try. Little does he know that the Wonders he'll discover among his neighbors, friends, relatives, and family will give him the adventure of a lifetime...without ever leaving his home.
The Seven Wonders of Sassafras Springs
by Betty G. Birney
Overall Review:
Eleven-year-old Eben McAllister wants to travel and see the Seven Wonders of the World described in his new book. But Eben's father thinks there are wonders right in tiny Sassafras Springs.
If Eben can find seven wonders in seven days, his father will give him a trip by himself to Colorado.
Eben finds that his neighbors are full of stories, many with an element of magic or the supernatural in them; some may cause a shiver or two up the spine, but none are terrifying, and only one has a really evil character in it, and he gets his just desserts.
Although a reader may feel the pull of whether Eben will find the seven wonders he needs, the story is gently paced and episodic, with each new wonder told in its own chapter, thus making it great for reading aloud.
RL 6.2, range 5.0-7.8.
Of interest to boys and girls

This review has been acquired and adapted from CleanTeenReads.com.
Content Analysis:
This review was acquired from CleanTeenReads.com on May 15, 2014 and was not completed using Compass Book Ratings' standardized checklist. Nevertheless, it contains useful content information which is included here. The overall number ratings have been approximated based on this information.
"when h*ll freezes over"

Sunday School teacher once yanked on ear of misbehaving boy so hard "he cried 'uncle'"; friend tells hero that mean neighbor would "just as soon shoot you as look at you"; man threatens boys with ax, thinking he's a tax collector; mayor threatens man to try to make him stop making it rain, gathers others who come with pitchforks and shovels to make him stop; mayor threatens him with pitchfork; bridge collapses, man, horse, and wagon fall into river; hero's aunt thinks hero "could have been buried by a collapsing house"; boy afraid of natives with poison darts; man struck by lightning, boots found fifty yards from body; two sailors washed overboard and drowned; gunshots; blind woman twists ankle and falls in woods; father threatens to beat son who's misbehaved, mention of town where many have influenza and "many have died."
Mature Subject Matter:
Death
Alcohol / Drug Use:
Whiskey in hot water given to sick child; mention of the following: a man who drinks, disapproved; someone drinking expensive "likker"; recipe for moonshine; father who drinks and then is mean; one morning he's "sleeping off a bottle of moonshine."
Reviewed By CleanTeenReads