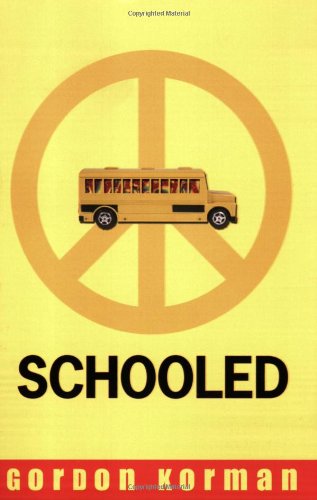 Publisher's Note:
Capricorn Cap Anderson has been homeschooled by his hippie grandmother, Rain. When Rain is injured in a fall, Cap is forced to attend the local middle school. Although he knows a lot about Zen Buddhism, nothing has prepared him for the politics of public school.
Schooled
by Gordon Korman
Overall Review:
Cap Anderson (short for Capricorn) has been raised by his grandmother, Rain—the only two of them left on what was a hippie commune. Cap's smart, but he knows nothing about the world outside the commune. So when his grandmother breaks her hip and has to go to the hospital, Cap ends going to public school for the first time.
Zach Powers, captain of the football team, decides Cap is the biggest doofus at the school and the perfect person to become the school's ultimate patsy—the eighth-grade class president. But Cap's innocence may be proof against all of Zach's meanness. Not only will Cap learn about the twenty-first century, Zach, and every other student at the school, may end up learning a thing or two about life.
Beginning with Cap's arrest on the first page of the book—for driving without a license—this lighthearted story moves along at a steady clip, each chapter adding its own twist to the tale of how the biggest doofus becomes the hero of the middle school.
Reading Level: 5.5, range 3.2-7.8.
Of interest to boys and girls.

This review has been acquired and adapted from CleanTeenReads.com.
Content Analysis:
This review was acquired from CleanTeenReads.com on May 15, 2014 and was not completed using Compass Book Ratings' standardized checklist. Nevertheless, it contains useful content information which is included here. The overall number ratings have been approximated based on this information.
5 G*d

Rain falls out of a tree, breaks her hip, not graphic; school victim given wedgies all the time, gets stuffed into locker; two boys fight, one hits other with book bag, gets punched in nose, they fall to grass and keep punching each other; kids shoot spitballs at Cap; daughter hates Cap, pours water on head as he does tai chi on front lawn; Cap learns about bullfighting, realizes it's a cruel sport; Zach calls on all eighth-graders to make Cap's life miserable—tripping him, throwing things at him; kids on bus "flicking lit matches at Cap"; bus driver has heart attack; daughter throws empty water bottle at Cap; school victim tripped, mentions that he doesn't want to be "dangled by [his] ankles over a toilet bowl"; two kids accidentally run into each other in lunch room; Cap piled on by all of football team; football player punches Zach, but Cap gets between them to try to stop fight, gets bloody nose; assistant principal thinks there's a riot at the school—not true.

Mention that cheerleading uniforms shrank in a flood; on soap opera, boy seeing another girl on the side, girl dating another boy on the side; "a steamy make-out scene"; mean girl runs into boys' bathroom, gives Cap long kiss on mouth, thinks they have a relationship "brewing"—no indication from Cap that it's true; daughter kisses Cap on cheek.
Mature Subject Matter:
Bullying
Alcohol / Drug Use:
None
Reviewed By CleanTeenReads