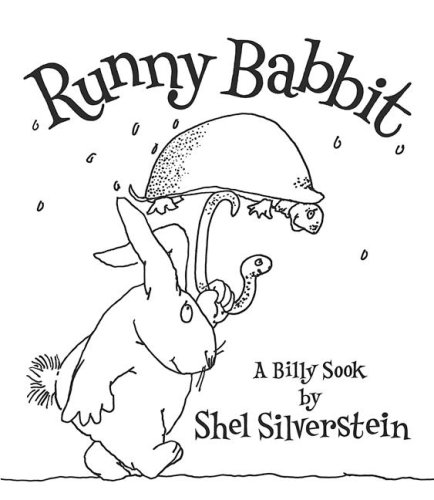 Publisher's Note:
From the legendary creator of Where the Sidewalk Ends, A Light in the Attic, Falling Up, and The Giving Tree comes an unforgettable new character in children's literature.
Runny Babbit lent to wunch
And heard the saitress way,
"We have some lovely stabbit rew—
Our Special for today."
Welcome to the world of Runny Babbit and his friends Toe Jurtle, Skertie Gunk, Rirty Dat, Dungry Hog, Snerry Jake, and many others who speak a topsy-turvy language all their own.
So if you say, "Let's bead a rook
That's billy as can se,"
You're talkin' Runny Babbit talk,
Just like mim and he.
Supports the Common Core State Standards
Runny Babbit: A Billy Sook
by Shel Silverstein
Overall Review:
Runny Babbit is full of the lighthearted verse familiar to Shel Silverstein fans, but the verses in this collection are also filled with spoonerisms: the first sounds of many of the words are transposed: "Use your slapkin, not your neeve," says Runny's mother.
Silverstein has just transposed the initial letters; he's left the spellings the same, so readers can figure out that "ne bice" means "be nice," but your young reader may need help to figure out pronunciations and meanings.
This book won't appeal to every reader, but those who enjoy it will likely increase in fluency as they read more "villy serses."
The verses are mostly very short, so readers can sample a few at a time or read the book straight through.
Reading Level: can't be determined.
Of interest to boys and girls

This review has been acquired and adapted from CleanTeenReads.com.
Content Analysis:
This review was acquired from CleanTeenReads.com on May 15, 2014 and was not completed using Compass Book Ratings' standardized checklist. Nevertheless, it contains useful content information which is included here. The overall number ratings have been approximated based on this information.
None
Mature Subject Matter:
None
Alcohol / Drug Use:
None
Reviewed By CleanTeenReads