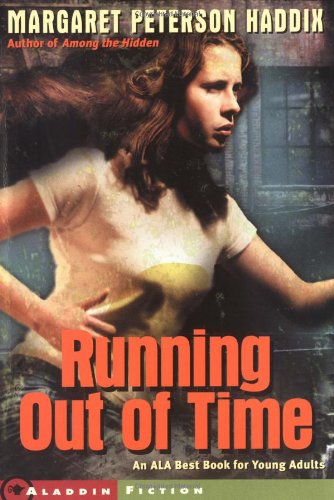 Publisher's Note:
Run For Your Life
Jessie lives with her family in the frontier village of Clifton, Indiana, in 1840 -- or so she believes. When diphtheria strikes the village and the children of Clifton start dying, Jessie's mother reveals a shocking secret -- it's actually 1996, and they are living in a reconstructed village that serves as a tourist site. In the world outside, medicine exists that can cure the dread disease, and Jessie's mother is sending her on a dangerous mission to bring back help.

But beyond the walls of Clifton, Jessie discovers a world even more alien and threatening than she could have imagined, and soon she finds her own life in jeopardy. Can she get help before the children of Clifton, and Jessie herself, run out of time?
Running Out of Time
by Margaret Peterson Haddix
Overall Review:
When diphtheria breaks out in the village of Clifton, Jessie's ma tells her the truth—it's not 1840; it's really 1996. Jessie and her family have been living in a historical village that no one's allowed to leave. Jessie will have to sneak out of the village wearing Ma's old "modern" clothes and find someone to help them.
She'll struggle to function in a modern world with telephones, radios, cars—and with people willing to kill her to protect the secret of Clifton village.
In addition to enjoying the exciting plot, I was also fascinated by the author's insights into how the modern world would appear to someone from the 1800s: because Jessie's from a small village, she's never spoken to someone she doesn't know; she's horrified at the price of a soft drink—it's more money than her pa is paid to shoe a horse; she's envious of children getting to ride school buses and wonders if they are the limosines her mother mentioned to her.
On page 21, Jessie finds out it's really 1996; on page 30, she gets ready to leave; on page 39, she sneaks out of Clifton and into the modern world. From there on, this book's a page-turner right through to the end.
My sister who uses this book with reluctant readers recommends explaining the plot up to page 39 to your reluctant reader; then giving them the book, and watching them read!
Reading Level: 5.6, range 3.7-6.8.
Also good for reluctant readers.
Of interest to girls


This review has been acquired and adapted from CleanTeenReads.com.
Content Analysis:
This review was acquired from CleanTeenReads.com on May 15, 2014 and was not completed using Compass Book Ratings' standardized checklist. Nevertheless, it contains useful content information which is included here. The overall number ratings have been approximated based on this information.
Teacher threatens to whip students who try to correct him when he's wrong, mentioned twice, mention of teacher's "iron fist" and "big switch"; teacher threatens to spank Jessie for saying Indians "had been here first"; Jessie remembers slapping her brother when he was a baby; Jessie's father beaten because she kept asking about "shut up" and "okay"; "Clifton's men" threaten people of Clifton, make them take down quarantine signs, Jessie's Ma fears they'll kill people rather than let anyone out or let anyone tell—idea repeated; Jessie's ma tells her to tell Neeley that "children are going to die if they don't get help"; Jessie's brother knows "Pa would tan his hide" if he tried to "play hooky from school"; Jessie falls against door of truck, "metal rack topples against her"; Mr. Neeley says they might need to kill Jessie because "she knows too much"; comment that someone "doesn't want blood on his hands"; woman suggests they "take care of the diphtheria deaths quietly"; Jessie falls down, hits head, knocks herself out; Jessie starts to fall from second-story ledge, catches herself; Jessie finds out real Mr. Neeley died in accident some years ago; two Clifton children die of diphtheria; school teacher threatens kids with gun, another adult also gets a gun; school surrounded by state police, school teacher threatens to kill all the children; Jessie wonders why two kids had to die; Jessie hears interview with two men involved in "diphtheria experiments" talking about deaths that brought about advances in science.

Mention of Jessie's mom being called "the midwife," mention of delivering babies; mention of boys in Clifton knocking girls down, "so they could look up [their] skirts"; mention that two older boys in school "draw dirty pictures"; Jessie's mother let her help with birth of sister when she was seven, saying, "She's seen the horses and cows and cats plenty of times."
Mature Subject Matter:
Illness, death

Alcohol / Drug Use:
Jessie briefly encounters boy who's drunk, disapproved.
Reviewed By CleanTeenReads