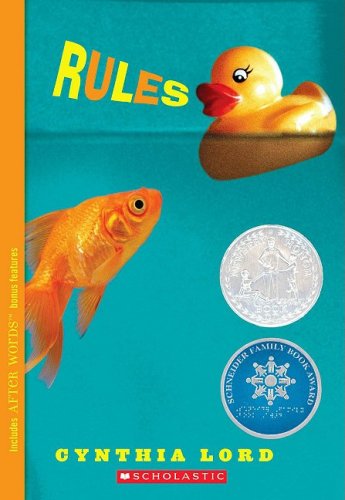 Publisher's Note:
This 2007 Newbery Honor Book is a humorous and heartwarming debut about feeling different and finding acceptance. Now in After Words paperback!

Twelve-year-old Catherine just wants a normal life. Which is near impossible when you have a brother with autism and a family that revolves around his disability. She's spent years trying to teach David the rules from "a peach is not a funny-looking apple" to "keep your pants on in public"---in order to head off David's embarrassing behaviors.

But the summer Catherine meets Jason, a surprising, new sort-of friend, and Kristi, the next-door friend she's always wished for, it's her own shocking behavior that turns everything upside down and forces her to ask: What is normal?
Rules
by Cynthia Lord
Overall Review:
It's hard to be the big sister when your brother's autistic
Twelve-year-old Catherine's younger brother's autistic and doesn't understand the simple rules of life, so Catherine has a list for him: "Don't chew with your mouth open"; "Flush!"; "No toys in the fish tank." Some rules are more complicated: "Late doesn't mean not coming," and "Sometimes people laugh when they like you. But sometimes they laugh to hurt you."
Catherine hopes the girl moving in next door will be the kind who'll want to signal with a flashlight from her bedroom window and who'll love swimming in the pond. In the meantime, she's getting to know Jason, the mute boy in a wheelchair who comes to occupational therapy at the same time as David.
Jason uses a communication book, pointing to words on cards. Catherine makes him new words, introduces him to her guinea pigs, and discovers they share a love of music.
But Catherine never would have guessed that Jason has something important to teach her too.
RL 5.8, range 4.8-7.5.
Of interest to girls
Awards: Newbery Honor Book, 2007; Schneider Family Book Award,

This review has been acquired and adapted from CleanTeenReads.com.
Content Analysis:
This review was acquired from CleanTeenReads.com on May 15, 2014 and was not completed using Compass Book Ratings' standardized checklist. Nevertheless, it contains useful content information which is included here. The overall number ratings have been approximated based on this information.
Siblings quarrel and scream at each other; heroine covers brother's mouth to stop him from screaming; heroine shoves someone who's being mean.

Autistic brother takes clothes off whenever they get wet, even in public, mentioned twice, happens once in the story—not sexual, not graphic.
Mature Subject Matter:
Autism
Alcohol / Drug Use:
None
Reviewed By CleanTeenReads