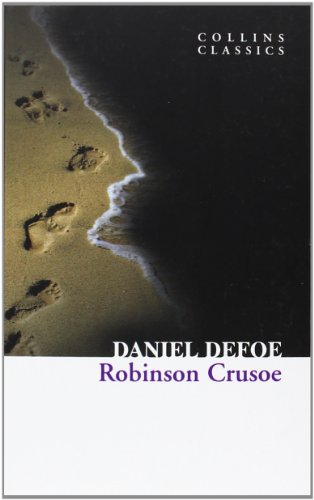 Publisher's Note:
'It happen'd one Day about Noon going towards my Boat, I was exceedingly surpriz'd with the Print of a Man's naked Foot on the Shore.'
Shipwrecked in a storm at sea, Robinson Crusoe is washed up on a remote and desolate island. As he struggles to piece together a life for himself, Crusoe's physical, moral and spiritual values are tested to the limit. For 24 years he remains in solitude and learns to tame and master the island, until he finally comes across another human being. Considered a classic literary masterpiece, and frequently interpreted as a comment on the British Imperialist approach at the time, Defoe's fable was and still is revered as the very first English novel.
Robinson Crusoe
by Daniel Defoe
Overall Review:
Whether you've read the book or not, you know the story: the shipwreck, the goatskin hat, the footprint in the sand, and the rescue of Friday.
But you may not know about Crusoe's stint as a slave, his escape along the coast of Africa, his years as a plantation owner in Brazil—and you may be just as surprised as I was to learn about his religious conversion. While gravely ill on the island, Crusoe has a dream that convinces him he must repent, he begins reading the Bible, and he muses about God and religion throughout the rest of the book
In its archaic language and attitudes, the book reveals its early 18th-century sensibilities—especially in Crusoe's acceptance of slavery but also in his lack of concern for animals or conservation
The pace of the original is generally very slow with a few very exciting and fast-paced sections; probably only older teens who are excellent readers will enjoy it
Of interest to boys and girls
Reading Level: 13.1, range 8.4-16.6.
This review has been acquired and adapted from CleanTeenReads.com.
Content Analysis:
This review was acquired from CleanTeenReads.com on May 15, 2014 and was not completed using Compass Book Ratings' standardized checklist. Nevertheless, it contains useful content information which is included here. The overall number ratings have been approximated based on this information.
Ship founders on rocks—all but Crusoe drowned—not graphic; Crusoe finds human bones indicating cannibalism, sees humans killed and eaten, not graphic; Friday tells Crusoe he was at a feast where twenty men, two women and one child were eaten; in fight to save Friday, one man shot, another beheaded—not graphic; fight with natives to rescue Spaniard who's about to be eaten—some graphic descriptions of the fighting; fight against mutineers described, one graphic description of a fatal gunshot. Animals killed for food, not graphic.


Nakedness mentioned of African men and women, the natives who come to the island, and Friday—not graphic.
Mature Subject Matter:
Slavery
Alcohol / Drug Use:
All the sailors drink rum: Crusoe gives a young Arab helper a drink to cheer him up; gives Friday rum to give him courage; Crusoe becomes drunk on his first voyage— disapproved; Crusoe uses rum as medicine but drinks only sparingly; wants to make beer but can't on the island. Grows tobacco on his plantation in Brazil; misses his pipe on the island, finally makes himself one; uses tobacco medicinally; smoking and chewing accepted.
Reviewed By CleanTeenReads