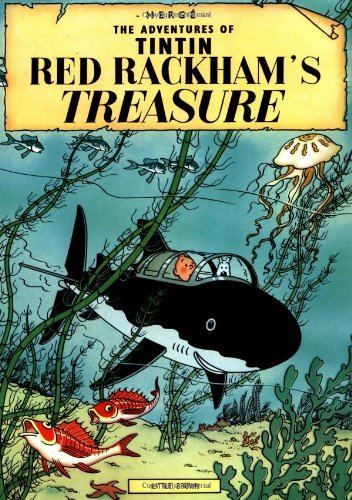 Publisher's Note:
The classic graphic novel. Tintin and Captain Haddock set sail aboard the Sirius to find the sunken remains of the Unicorn ship and notorious pirate Red Rackham's treasure.
Red Rackham's Treasure (The Adventures of Tintin)
by Hergé
Overall Review:
The comic book Red Rackham's Treasure is just one of the three stories that were used to create the Tintin movie that came out in December 2011, but it makes a fine adventure on its own. The first couple of pages provide enough backstory for the reader to grasp the plot and enjoy Tintin's search for Red Rackham's pirate treasure, accompanied by his dog, Snowy; his friend Captain Haddock; the bumbling detectives, Thomson and Thompson; and Dr. Calculus, the hard-of-hearing scientist (who's been left out of the movie version for some reason).
Tintin and Captain Haddock will find Red Rackham's desert island, find the wreck of Red Rackham's ship, and find human bones (perhaps left by natives—maybe cannabals—now no longer on the island). They'll use Dr. Calculus's new submarine to search underwater, and they'll use a diving suit to explore the wreck. They'll find lots of old rum, but they won't find the treasure until after they've given up and come back home.
Dr. Calculus is hard-of-hearing, and much of the humor in the story comes from him misunderstanding what people are saying to him.
The book has a lively (but not breakneck) pace. The comic book format makes this a great book for reluctant readers. Most of the text in in a font that looks like hand printing; very occasionally there's a frame that uses an italic font, a harder font for dyslexic readers.
But if your reader falls in love with Tintin, you may want to collect the entire Tintin series of twenty-four books, though the complete collection on Amazon is only available in the smaller format.
Reading Level: can't be determined.
Also good for reluctant readers
Of interest to boys

This review has been acquired and adapted from CleanTeenReads.com.
Content Analysis:
This review was acquired from CleanTeenReads.com on May 15, 2014 and was not completed using Compass Book Ratings' standardized checklist. Nevertheless, it contains useful content information which is included here. The overall number ratings have been approximated based on this information.
Mention that Captain's ancestor killed pirate and "blew up his ship," Captain threatens to fight "descendants" of pirate; Captain caught in "clothes-brushing machine," comes out ragged, wall bed falls on detectives, slapstick; Captain thinks he's discovered "bomb in the hold"—not true; Captain threatens to throw someone overboard; slapstick battle with crab; Snowy finds remains of natives killed by enemies, picture shows skulls, bones, speculation of cannibalism; captain throws coconut at parrots, coconut hits him on head, captain wants to shoot parrots; monkeys steal Tintin's gun, detective shoots at monkeys, they shoot back, narrowly missing Captain, drop gun on detectives; Captain shoots at shark fin, turns out to be submarine; shark tries to attack Tintin, he hits it with bottle of rum; man falls on head, slapstick; Captain grabs scientist's pendulum, throws it away; Captain hits coconut tree with pickaxe, coconuts fall on head, slapstick.
Mature Subject Matter:
Racism (one man claiming to be descendant of Red Rackham is in blackface), disabilities
Alcohol / Drug Use:
Captain ignores doctor's orders to stop drinking any alcohol because of health problems; detectives try chewing tobacco, but swallow it when startled; bottle of whiskey disappears, Snowy gets drunk; picture shows Captain opening boxes labeled "Old Scotch Whiskey"; Captain upset about bottle of whiskey getting spilled; Captain furious to find that his cases of whiskey have been left on dock; Captain offers bottle of champagne to first person who sights land; mention of ancestor saying, "ration my rum," repeated several times; Jamaica rum found in wreck, Captain Haddock drinks it, dives back in without diving helmet to get more; picture shows lots of bottles of rum, Captain thinks rum is most important thing they found at wreck; Tintin hits shark with bottle of rum, shark gets drunk.
Reviewed By CleanTeenReads