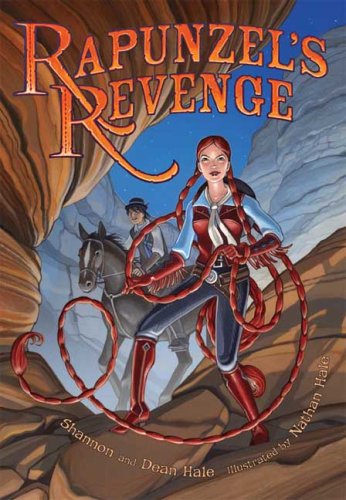 Publisher's Note:
Once upon a time, in a land you only think you know, lived a little girl and her mother . . . or the woman she thought was her mother.
Every day, when the little girl played in her pretty garden, she grew more curious about what lay on the other side of the garden wall . . . a rather enormous garden wall.
And every year, as she grew older, things seemed weirder and weirder, until the day she finally climbed to the top of the wall and looked over into the mines and desert beyond.
Newbery Honor-winning author Shannon Hale teams up with husband Dean Hale and brilliant artist Nathan Hale (no relation) to bring readers a swashbuckling and hilarious twist on the classic story as you've never seen it before. Watch as Rapunzel and her amazing hair team up with Jack (of beanstalk fame) to gallop around the wild and western landscape, changing lives, righting wrongs, and bringing joy to every soul they encounter.
Rapunzel's Revenge
by Shannon Hale
Overall Review:
Cross Rapunzel with Annie Oakley, add a young man named Jack who's got a goose in tow, and serve it up in a light-hearted graphic novel format, and you have the main ingredients for Rapunzel's Revenge
Although Shannon Hale has written other retold fairy tales, this one—written with her husband—is lighter, has cartoon violence, sidekick humor, and a plot that includes a wild west adventure.
Here Rapunzel isn't saved by the handsome prince. She lets herself down from the tower using her long braids. And when the "prince" belatedly comes along, he's handsome all right, but also self-absorbed and not really planning on saving Rapunzel.
After Rapunzel gets out of the tower, the story changes to a wild west adventure where Rapunzel uses her braids like ropes and whips.
There are some trademark Hale elements such as insight into characters: Rapunzel, who's spent years locked in a tower, doesn't know much about what friendship's like. Jack, who's stolen a golden goose from the giants, is a thief even when he's not up the beanstalk.
There are also traditional comic book elements—a hero and trusted sidekick, comic book violence with "Pow" and "Squish" sound effects, and much of the story told in pictures.
Unlike most comic book illustrations, this book doesn't have the female characters wearing skimpy clothes from which their bosoms overflow, though one minor female character has a somewhat low-cut dress.
Partly because of the graphic format, the story moves along quickly, with exciting pictures to draw the eye and keep the reader's interest.
Reading Level: can't be determined.
Also good for reluctant readers.
Of interest to boys and girls
Awards: An ALA Notable Children's Book, 2009; A YALSA Great Graphic Novel for Teens, 2009; and five other awards
This review has been acquired and adapted from CleanTeenReads.com.
Content Analysis:
This review was acquired from CleanTeenReads.com on May 15, 2014 and was not completed using Compass Book Ratings' standardized checklist. Nevertheless, it contains useful content information which is included here. The overall number ratings have been approximated based on this information.
Witch shown with scissors open as she confronts a poor farmer—what happens isn't clear; guard punches Rapunzel's mother in stomach; Rapunzel's father "was killed in the mines"; witch's "henchman" puts sack over Rapunzel's head, takes her deep into forest, picture shows cougar trying to attack them, henchman crushes cougar's skull; Rapunzel draws picture of witch and hits it, hurts hand; Rapunzel lassoes bird using her braid, roasts, eats it; pictures show Rapunzel falling through branches, falling into water at bottom of tree; warthog breaks tree branch, plunges Rapunzel into water, pulls Rapunzel along by her hair, she falls onto warthog's back; Rapunzel imagines giving witch "a swift kick in the rear"; man threatens to take goose from owner, tries to, pulls gun, Rapunzel snaps gun from man's hand with her braid, another person pulls a gun, boy tackles shooter; rancher's daughter kidnapped; Rapunzel uses braid to catch outlaw around neck, when he gets away, she lassoes him; Rapunzel hits outlaw in face with braid, he grabs it, pulls her off balance, she makes him overbalance, jumps on him, ties him up, puts bag on his head; Jack hit with rock, Rapunzel tackled; goose bites outlaw in backside; Rapunzel rams outlaw in stomach, lassoes two of them, hits them into each other; Rapunzel kicks open cell door in deputy's face; sheriff aims gun, Rapunzel swings into sheriff, kicks him in face; Rapunzel punches Jack for teasing her; man threatens to "shoot Jack in [his] nethers," Rapunzel disarms him, pulls a post down on his head; man jumps on Jack, knocks him to the ground; man suggests killing witch to destroy her power; henchman throws boulder in front of Jack and Rapunzel, threatens to hit them with another if they don't stop; town has ferocious beasts that attack at night—a pack of coyotes; Rapunzel fights them with her braids, outbuilding catches fire, Jack falls into fire, Rapunzel gets him out; Rapunzel uses flaming brands to herd coyotes away from town; Rapunzel and Jack are knocked off their horses by a trap, people want to tie them up and "send them down the river"; dwarves swarm over henchman and bring him down, tie him up and send him down the river; mention of water beast that killed boy and kitten; Rapunzel fights water beast, quite "graphic"; Jack and dwarves attack it with pickaxes; Rapunzel protects actors from outlaws threatening them with guns; witch locked Rapunzel's mother in dungeon; people fear destruction from beanstalk falling will kill them; Rapunzel pulls floor out from under henchman, tries to strangle him, he grabs her braid and swings her into the wall, takes her to witch who cuts her hair off, Jack tries to intervene and is also caught; witch orders henchman to kill Jack; Jack throws green tomatoes at witch, Rapunzel gags witch with vine; witch tries to attack with scissors, Jack pushes her back against magic tree, it swallows her up.

Jack suggests Rapunzel put on a dress and do "a sultry little dance" to distract the outlaws—Rapunzel refuses; part of the time she's wearing long underwear and a knee-length shift; man threatens to "shoot Jack in [his] nethers"; Rapunzel jokes about "distracting [coyotes] with [her] feminine wiles"; Rapunzel's dress is off her shoulders; Jack sees a couple kissing in the background; Rapunzel rips off skirt of ball gown, wearing knee length underwear underneath; Jack "steals" a kiss from Rapunzel; one minor character has low-cut dress.

Mature Subject Matter:
Death of a parent
Alcohol / Drug Use:
None
Reviewed By CleanTeenReads