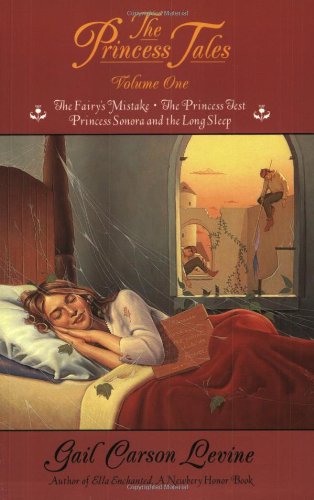 Publisher's Note:
Once upon a time...
A kind sister and a cruel one. A charming prince. A spiteful fairy. A hundred-year snooze. A pea under a pile of mattresses. A kiss.
All the familiar ingredients, but why is the punished sister happy? Where did that extra prince come from, and what does a flock of balding sheep or a fleck of tuna in a chocolate cake have to do with anything?
Gail Carson Levine has waved her magic wand over three well-known fairy tales, and presto! They are transformed -- and sparklingly funny-in these delightful retellings:
The Fairy's Mistake
The Princess Test
Princess Sonora and the Long Sleep
Happily ever after has never been so hilarious.
The Princess Tales
by Gail Carson Levine
Overall Review:
They're not quite the fairy tales your mom read to you!

The fairy thinks she's rewarding Rosella when she makes jewels fall from her lips as she speaks; she thinks she's punishing her sister Myrtle by making bugs, toads and snakes fall from hers—she's wrong!
You've heard of the princess and the pea, but have you heard of the princess and the parsley, the princess and the raw noodle, and the princess and the missing stitch? You will in this story.
The fairy thought it was a good gift: she made Princess Sonora ten times smarter than anyone else. But how will her smarts help her? She's going to prick herself on a spindle and sleep for a hundred years.
Enjoy these funny fractured fairy tales from the author Ella Enchanted.
This review has been acquired and adapted from CleanTeenReads.com.
Content Analysis:
This review was acquired from CleanTeenReads.com on May 15, 2014 and was not completed using Compass Book Ratings' standardized checklist. Nevertheless, it contains useful content information which is included here. The overall number ratings have been approximated based on this information.
The Fairy's Mistake: arguing, fighting, insect sting, getting bitten; The Princess Test: Household mishap; murderous intentions, thoughts, efforts; excessive punishment; The Princess Test: fear of violent intentions, biting, suggestion to kill someone, minor injury; Princess Sonora and the Long Sleep: Household mishap, violent intentions.

Princess Sonora and the Long Sleep: mention of breastfeeding.

Mature Subject Matter:
None
Alcohol / Drug Use:
None
Reviewed By CleanTeenReads