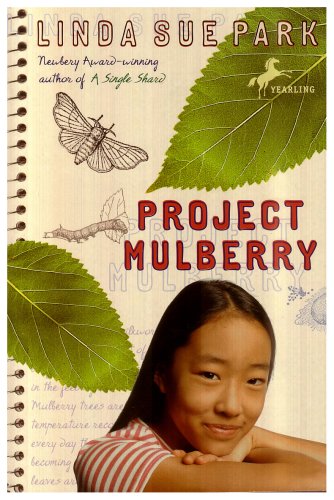 Publisher's Note:
Julia Song and her friend Patrick want to team up to win a blue ribbon at the state fair, but they can't agree on the perfect project. Then
Julia's mother suggests they raise silkworms as she did years ago in Korea. The optimistic twosome quickly realizes that raising silkworms is a lot tougher than they thought. And Julia never suspected that she'd be discussing the fate of her and Patrick's project with Ms. Park, the author of this book!
Project Mulberry
by Linda Sue Park
Overall Review:
A deceptively simple story with complex themes relating to honesty, conservation, racism, sibling relationships, and creativity

Seventh-graders and best friends Julia and Patrick need to find a project to do for their "Wiggle" Club (similar to 4-H). Patrick wants to raise silkworms, something Julia's mother remembers doing in Korea; Julia wants to do something more American, but how can she tell Patrick when he's so gung-ho on silkworms?
Instead of talking to Patrick about her feelings, Julia keeps secretly hoping the project won't work out, but each obstacle is overcome until the only problem is how to get the money to buy the silkworms. When Julia stops justifying herself for not helping more with the money, she recognizes she's hurting Patrick, suggests a simple solution, and they begin the project of raising silkworms from eggs. They'll continue on to harvest the silkworm cocoons, and Julia will embroider something with the silk.
Along the way, they will learn about their club leader's sustainable farm, Julia will begin to suspect that her mother has racist attitudes toward black people, and Patrick will show Julia a better way to deal with her younger brother ("the Snotbrain").
In between each chapter of the book is a conversation between the author, Linda Sue Park, and Julia. I thought at first that the book was a biography, and Ms. Park was having conversations with a real person, but it's more complex than that—Ms. Park is talking with the fictional character she's created. It's a fun way to illustrate the creative process that goes into a finished story, but readers are told up front to skip these sections if they're not interested. The conversations are certain to intrigue any aspiring writers!
From the first page, the book draws the reader in, not with exciting action but with Julia's problem with kimchee (a spicy Korean cabbage dish) and with the Wiggle Club project. It's not a non-stop action book, but Julia's everyday problems will appeal to many tweens and teens.

Reading Level: 5.0
Of interest to girls
This review has been acquired and adapted from CleanTeenReads.com.
Content Analysis:
This review was acquired from CleanTeenReads.com on May 15, 2014 and was not completed using Compass Book Ratings' standardized checklist. Nevertheless, it contains useful content information which is included here. The overall number ratings have been approximated based on this information.
Julia kicks brother under table; mention that Julia and her brother have been fighting since he "learned to talk"; mention of black man's wife dying of cancer; lid of aquarium lands on Julia's foot, hurts; Julia horrified to find out you have to kill silkworms to harvest silk; Julia accuses Patrick of starting project so he can kill worms; mention of "snipping off the ends of [chickens'] beaks and claws" when raising chickens "crowded together"; Wiggle leader tells Julia that killing his first chicken was "bloody and messy, and [he] almost got sick"; Julia relieved it won't be "bloody and horrible" like killing chickens would be; Julia doesn't want to see dead silkworms; mention in author's note of violence between blacks and Asians "in New York City and Los Angeles in the 1990s."
Mature Subject Matter:
Racism
Alcohol / Drug Use:
None
Reviewed By CleanTeenReads