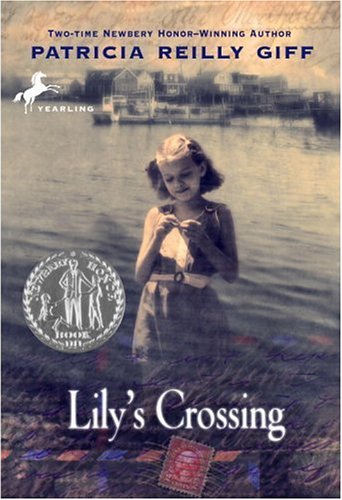 Publisher's Note:
When Lily meets Albert, a refugee from Hungary, during the summer of 1944, they begin a special friendship. However, Lily and Albert have both told lies, and Lily has told a lie that may cost Albert his life.
This book was sent to Compass Book Ratings for review by Random House Children's Books
Lily's Crossing
by Patricia R. Giff
Overall Review:
Lily's Crossing by Patricia Reilly Giff is a beautiful tale of a young girl's experiences one summer during World War II. Giff has a great talent for making the characters in her stories feel very authentic and personable, and this tale is no exception. Giff introduces us to Lily: a girl who is still a child, but just beginning to understand the world around her—a world with hard truths in the midst of war and loss. And yet, in the midst of all the confusion and heartache, she is able to find a true friend and the world somehow becomes a better place. The emotions that Lily experiences in describing a mother who died when she was young, a beloved father going off to war, and strained relationship with a grandmother who Lily perhaps resents for not being her mother are so honest and raw that it feels as though Giff is writing this story from a very personal place. The reader can easily identify with the anger Lily feels at yet another loved one leaving her, as well as the guilt and pain she feels as she runs desperately after the train to try to wave good-bye to her father—realizing that her love for her father is so much more than the anger and sorrow. The story of friendship blossoming between Lily and Albert is poignant and precious as two children learn to trust each other and find peace in sharing their fears and sorrows, instead of using the forced bravado that has governed so much of their lives and kept them alone. This is an insightful and lovely story that brings both the pain of World War II and the innocence and shelter of childhood to life at the same time, in a way that only Giff can do. The Newberry Honor for this book is well earned.
Content Analysis:
Instances of violence are labeled as such in only the most scrupulous terms as the story describes a storm and rescue, and references to the War and Albert's lost family in Hungary.

There was no profanity or sexual content.
Mature Subject Matter:
Mature themes have again to do with references to World War II, but are again labeled scrupulously. References are very basic and appropriate for any age—especially those 9 and older who should be learning about such integral events in our history.
Alcohol / Drug Use:
***
Reviewed By Kristen