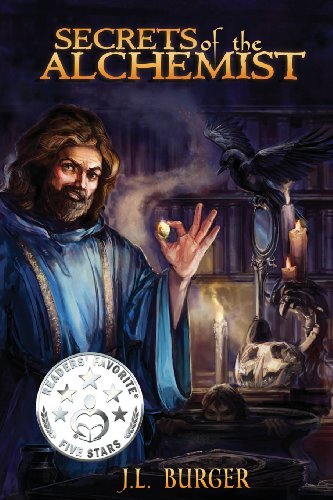 Publisher's Note:
What are Nora and Tomik to do? They've been transported 400 years back in history, and have no clue how to get back home. The members of the Royal Court refuse to let them leave – everyone believes that the children are wizards, come to save their struggling empire. Well, not quite everyone. The wicked chamberlain wants to toss the children into the castle's deepest dungeon. The crazed, witch-hunting duke is starting to look at them funny. But worst of all is the emperor's prized alchemist. He just wants them dead – and has a bag full of sinister tricks to make it happen. It looks like the only way out of this predicament is to save the empire, after all. But how? Nora will have to come up with some magic of her own, and fast – for his next trick, the scheming alchemist is planning to make the children disappear… forever!
This book was sent to Compass Book Ratings for review by GMTA Publishing
Secrets of the Alchemist
by J.L. Burger
Overall Review:
After being assigned a school history project on her family roots, Nora's parents decide, much to her dismay, that they'll take a break from their home in New Jersey and spend the summer in a tiny village in the Czech Republic. Nora's expecting her summer of family research to be incredibly dull but she is taken by surprise when her boring summer turns into the most exciting time of her life.
J.L. Burger has created such a fun and engaging story in Secrets of the Alchemist, set in a medieval period which is filled with thrills, turmoil, and plenty of humor. The cast of characters are diverse--including those who prove to be fierce and deceitful, as well as some who are gullible, and others who are brave. It seems that someone's fate or some outcome is always hanging in the balance throughout the story and this keeps your interest piqued. Audiences both young and old will enjoy this delightful tale of time travel and adventure!
Content Analysis:
Profanity/Language: 2 religious exclamations.
Violence/Gore: Many (25) very brief incidents including characters joking about killing; verbal threats and threats with weapons; character thinking about hurting another; characters see torture devices; comment that character would be killed if certain thing occurs; three second hand reports of deaths; sword fight; characters kicked and hit (little to no damage occurring); animal jumps and sits on character; characters "beat to a pulp" during medieval competitions.
Sex/Nudity: Few (4) brief incidents including hand kissed; reference to Native Americans running around unclothed; character pantsed as a joke; character using restroom and another accidentally opens door while pants are down (no further detail given).
Mature Subject Matter:
None
Alcohol / Drug Use:
Characters drink during party and meeting; character poisons animal to sedate (not kill).
Reviewed By Jenny