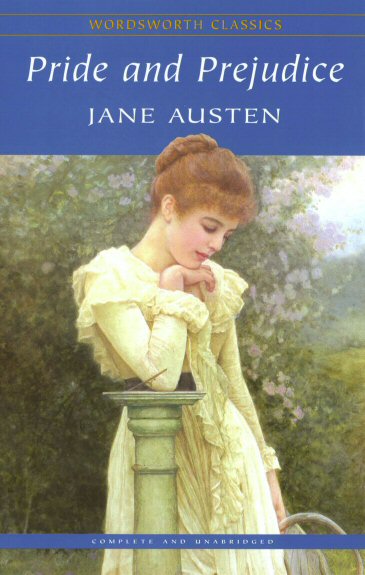 Publisher's Note:
Pride and Prejudice is a novel by Jane Austen, first published in 1813. The story follows the main character Elizabeth Bennet as she deals with issues of manners, upbringing, morality, education, and marriage in the society of the landed gentry of early 19th-century England. Elizabeth is the second of five daughters of a country gentleman living near the fictional town of Meryton in Hertfordshire, near London.
Pride and Prejudice
by Jane Austen
Overall Review:
What female doesn't enjoy Austen's witty tale of the five Bennett sisters and their romantic misadventures? Your teen will fall in love with the story all over again as each character comes to life through Irene Sutcliffe's masterful narration.
The writing is insightful, witty and beautifully crafted, and the beauty of the writing shines through in the audio recording. This recording can be the bridge to the book for those who haven't read it yet or a delightful return visit for those who have read the book before.
The book is written at a slower nineteenth-century pace, but the audio recording is so engaging that it invites listening—fun for a long road trip or for just a chapter or two a night.

Pride and Prejudice by Jane Austen (BBC Audiobooks America, 2005) unabridged, total listening time 11.5 hours
Reading Level: 8.1, range 6.4-9.4.
Of interest to girls.

This review has been acquired and adapted from CleanTeenReads.com.
Content Analysis:
This review was acquired from CleanTeenReads.com on May 15, 2014 and was not completed using Compass Book Ratings' standardized checklist. Nevertheless, it contains useful content information which is included here. The overall number ratings have been approximated based on this information.
A sister runs away with an officer and lives with him in London, mentioned, not described, strongly disapproved; others arrange for them to marry; the couple shows no remorse or shame, but everyone else in the book is horrified; implication that officer may have been involved with tradesmen's daughters, disapproved. Teens may need help understanding that "lovers" in Austen's day meant an engaged couple and that "lovemaking" meant "courting" or "wooing."
Mature Subject Matter:
None
Alcohol / Drug Use:
None
Reviewed By CleanTeenReads