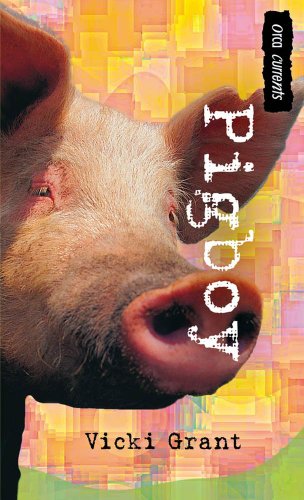 Publisher's Note:
Dan is not sure he'll survive the boring field trip to a remote heritage farm. How could a place with no running water, telephone or electricity be anything but dull? The farmer knows nothing about farming and is angry about having to conduct the tour. And what's with his tattoo? The teacher requests a private word with the farmer and then mysteriously disappears. After a messy attack of allergies, Dan is excused to find a tissue. He sneaks back to the school bus and discovers the driver and teacher have been bound and gagged. The farmer is really an escaped convict with nasty plans. Will Dan be able to find help in time?
Pigboy
by Vicki Grant
Overall Review:
Fourteen-year-old Daniel Hogg—called "Pigboy" by the class bully—doesn't want to go on the field trip to a pig farm. The ride there is bad enough with Shane Coolen breaking Daniel's glasses and giving him a bloody nose.
But things get worse when an escaped prisoner at the farm decides they all must die in a tragic accident.
Can Dan save the day—dressed only in his "tighty-whities" and carrying the teacher's purse?
This nominee for the 2009 Beehive Awards combines silliness and excitement for a fun, quick read—a great book for reluctant readers! Gets lively by page 12, by page 30, it's really moving along.
Reading level: 2.0, according to publisher.
Also good for reluctant readers.
Of interest to boys.
This review has been acquired and adapted from CleanTeenReads.com.
Content Analysis:
This review was acquired from CleanTeenReads.com on May 15, 2014 and was not completed using Compass Book Ratings' standardized checklist. Nevertheless, it contains useful content information which is included here. The overall number ratings have been approximated based on this information.
Bully deliberately pushes hero against bus window, breaks his glasses and gives him a bloody nose; hero finds teacher tied up and bleeding from a blow to the head and finds bus driver knocked out and tied up. Bad guy has broken farmer's arm. Hero throws kerosene lamp at bad guy. Hero gets tied up. Bad guy plans to kill hero, teacher, bus driver, and classmates in a "tragic accident"—locks them in a building and sets it on fire. Bad guy has a gun and threatens the hero with it. Hero throws manure at bad guy. Hero ties up bad guy and duct tapes his mouth shut. Bad guy knocked out when pigs knock him down.
Mature Subject Matter:
None
Alcohol / Drug Use:
Bad guy smokes a cigarette— accepted
Reviewed By CleanTeenReads