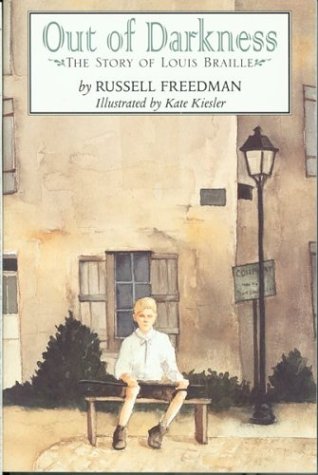 Publisher's Note:
A biography of the 19th century Frenchman who developed Braille. The book spans Braille's life from childhood through his days at the Royal Institute for Blind Youth and into his final years, when the alphabet he invented was finally gaining acceptance.
Out of Darkness: The Story of Louis Braille
by Russell Freedman
Overall Review:
Would you like a role model for your child who is smart, persevering, humble, kind and generous? Louis Braille fits the bill. This award-winning biography tells how Braille, while still a teenager, developed his six-dot writing system for the blind.
The book begins quietly, heating up in Chapter 2, describing the accident that blinded Braille, and then quieting down again before becoming more exciting toward the end as Braille's new writing system causes controversy and is banned at the National School for Blind Youth.
Reading Level: 6.6, range (4.7-8.1).
Of interest to boys and girls.
Also Suggested:
If your child wants to learn to read braille, try Braille for the Sighted (Beginning Braille)
by S. Harold Collins (Garlic Press, 1998).

Slates and styluses for writing braille are available at National Federation for the Blind Online Store. Use construction paper or card stock with the slate. Your child will likely need help at first because writing on a slate is done from right to left and each letter is reversed.
This review has been acquired and adapted from CleanTeenReads.com.
Content Analysis:
This review was acquired from CleanTeenReads.com on May 15, 2014 and was not completed using Compass Book Ratings' standardized checklist. Nevertheless, it contains useful content information which is included here. The overall number ratings have been approximated based on this information.
Description of accident that blinded Braille, not graphic. He stuck himself in the eye with one of his father's tools.
Mature Subject Matter:
Disabilities
Alcohol / Drug Use:
None
Reviewed By CleanTeenReads