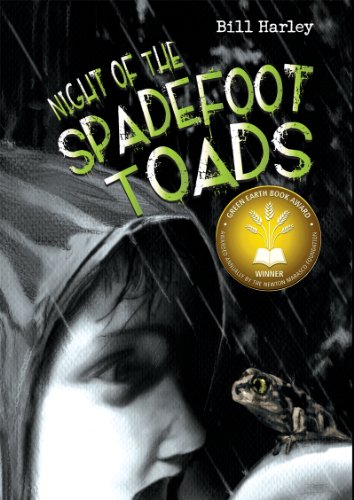 Publisher's Note:
When his father takes a new job in Massachusetts, Ben Moroney must leave behind his best friend Tony, a western banded gecko named Lenny, and worst of all, the desert home he has loved and explored.

Ben s adjustment to his new environment is not going well until he unexpectedly finds a kindred spirit in his eccentric fifth-grade science teacher, Mrs. Tibbets. Together they explore the varied habitats on her rural property, and she introduces him to the elusive and endangered Eastern spadefoot toads that make their home there.

When Ben discovers that Mrs. Tibbets s relatives plan to sell the land to developers, he knows he must try to stop them. As Ben s obsession with saving the spadefoot toads habitat grows, his schoolwork suffers and his relationships with his family and new friends are strained. One foolish, impulsive act threatens to destroy his friendship with Mrs. Tibbets and maybe even her career. But just when it seems things can t get any worse, Ben finds a way to meet his responsibilities to the people around him and learns what it means to feel at home.
Night of the Spadefoot Toads
by Bill Harley
Overall Review:
Fifth-grader Ben Moroney moved to Massachusetts two months ago, but he still feels like an outsider at his school. He misses Toby, his best friend in Tucson, Arizona; he misses his beloved Sonoran Desert; he misses Lenny, his western banded gecko. Here in Massachusetts, there's the class bully, Frankie; totally hyper Ryan—with an eye patch and funny glasses—who gets picked on all the time. And there's rain and more rain.
But then Ben discovers the frogs on his family's property, becomes friends with his science teacher, Mrs. Tibbets, gets interested in the cage behind Mrs. Tibbets' house that she's forbidden him to go near, and with Mrs. Tibbets discovers the magic of the spadefoot toads.
The book is written in present tense—which I always find disconcerting initially but then adjust to. Like many books for teens and tweens, this one occasionally has a part that doesn't sound like a fifth-grader: Ben thinks, "The adult world is like a big wall . . . . You can't see through it, you can't get over it. How is a kid supposed to understand what they're doing on the other side?"
However, there are many things I find appealing about the book. First, Ben has normal fifth-grader problems: he lies, he has to deal with a bully, he has to decide if he wants to be friends with the kid who's bullied, he doesn't get his homework done on time, and he breaks a promise. Second, Jenny, the girl who befriends Ben, is "smart in seeing the world in a way others don't." (It's a refreshing change from all the girls who are simply beautiful.) Also, as the Kirkus Review notes, this "appealing story shows readers that adults and children can connect in meaningful friendships"—a real plus because this is not the kind of relationship developed in most middle reader books. The book also has a real conservation bias, but I didn't find it preachy.
Although the story has something new and different happening in every chapter, readers must identify with Ben and become interested in his efforts to adjust to life in Massachusetts. By page 5, Ben has taken a mouse out of a cage in the science room, and trouble ensues.
Reading Level: 4, range 2.2-5.7.
Of interest to boys and girls.

This review has been acquired and adapted from CleanTeenReads.com.
Content Analysis:
This review was acquired from CleanTeenReads.com on May 15, 2014 and was not completed using Compass Book Ratings' standardized checklist. Nevertheless, it contains useful content information which is included here. The overall number ratings have been approximated based on this information.
Mention of feeding mice to snakes, explained as "cycle of life"; report of banded gecko dying; bully pushes Ryan back in his seat; Ben threatens to hang sister by her feet, later wants to strangle her, threatens to "feed [Ryan] to the Overtoad"; bully tries to snatch Ryan's glasses, "Ben knocks his hand away," "lifts [bully] up by his jacket, pushing him back down the aisle [of the bus]," yells at bully, shoves him back in his seat.
Mature Subject Matter:
None
Alcohol / Drug Use:
None
Reviewed By CleanTeenReads