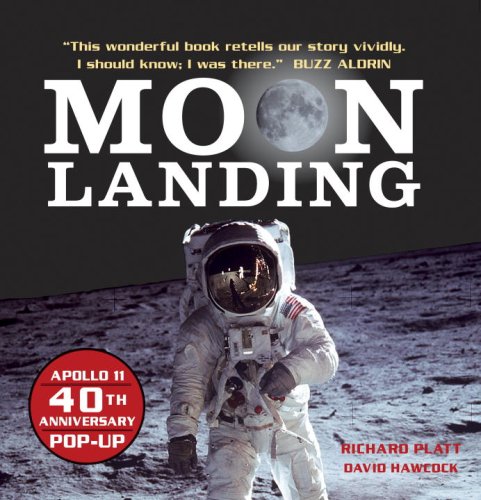 Publisher's Note:
Trace the history of people's fascination with the moon — and the scientific developments that led to a ground-breaking mission — in an out-of-this-world novelty book marking the first moon landing. Acclaimed author Richard Platt focuses on humankind's dreams of traveling to the moon, the race to conquer space, the technology needed to reach the moon and sustain the astronauts in space, and the moon landing itself. Re-creating the excitement of the expedition are extraordinary pop-ups depicting a rocket, the lunar module, a spaceship, and a spectacular spherical moon, while booklets and flaps offer readers a wealth of intriguing facts.

* Published in anticipation of the fortieth anniversary of the first moon landing on July 20, 1969

* Features official NASA photographs, two mini-books, and fun informational flaps
Moon Landing: Apollo 11 40th Anniversary Pop-up
by Richard Platt
Overall Review:
When I took this book to the Juvenile Justice facility where I was a reading volunteer, one teen complained that we were going to read a book for kids—until I opened the first page, showing a pop-up rocket blasting into space.
The teens and I couldn't get enough of the book—one girl discovering that the arms on the space suit move; a boy figuring out how to insert the slot in the tab, so the Moon stood up from the page in almost-spherical splendor.
We passed the book around multiple times, reading a bit more each time the book came to us—about surviving in space, about rocket stages, about landing sites on the Moon, and much more!
I'd expected this book to be long on cool effects but short on good information. I was wrong. There's an impressive amount of text on each page, presented in bite-sized chunks that are easy to digest. (Of course, in 10 pages, the book doesn't offer a complete history of the space program or the Apollo 11 mission.)
If you have space buffs at your house, you can expect them to spend long hours with the exciting pop-ups, fold-outs, little booklets—and the interesting text.
Reading Level: 7.9, range 6.1-8.8.
Also good for reluctant readers.
Of interest to boys and girls.
This review has been acquired and adapted from CleanTeenReads.com.
Content Analysis:
This review was acquired from CleanTeenReads.com on May 15, 2014 and was not completed using Compass Book Ratings' standardized checklist. Nevertheless, it contains useful content information which is included here. The overall number ratings have been approximated based on this information.
Mention that "first modern rockets were weapons," Germans used rockets in WWII, mentioned several times—over 3,000 "were launched against Allied targets"; during Cold War, US and Soviets "built bigger rockets"; mention of "rushing to build the biggest bomb"; invention of gunpowder in China, later use of gunpowder to fire sheaf of arrows at enemy; East Indians fired rockets at British; British fired 25,000 at Copenhagen; mention that Werner von Braun, who led team creating German missiles in WWII, came to US and developed bigger rockets for nuclear bombs; mention of an escape plan if "Saturn 5 rocket exploded or fell over during launch"; Apollo 11's "delicate, dangerous maneuver to spin apart" "once they reached the Moon"; mention twice of Apollo 1 disaster where three astronauts died in fire; mention that without any protection, a person "would die in a few seconds" in space; mention of explosion on Apollo 13.
Mature Subject Matter:
None
Alcohol / Drug Use:
None
Reviewed By CleanTeenReads