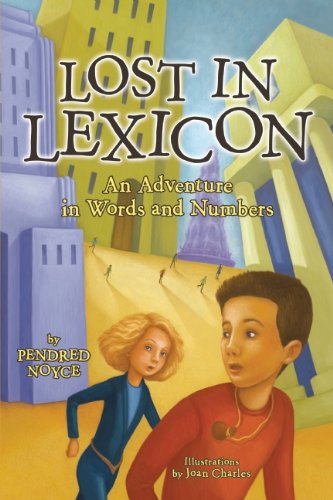 Publisher's Note:
"If this is an adventure, we should just plunge in..." When thirteen-year-old cousins Ivan and Daphne go on a treasure hunt in the rain one summer day, they never expect to stumble into a whole new world where words and numbers run wild.

After the cousins outwit a plague of punctuation, grateful villagers beg them to find Lexicon's missing children, who have been enticed away by dancing lights in the sky. Trekking between villages in search of clues, the cousins encounter a talking thesaurus, a fog of forgetting, the Mistress of Metaphor, a panel of poets, feuding parts of speech, and the illogical mathematicians of Irrationality. When a careless Mathemystical reflects them across the border into the ominous Land of Night, their peril deepens. Kidnapped, imprisoned, and mesmerized—with time running out—will Ivan and Daphne find a way to solve the mystery of the lights in the sky and restore the lost children of Lexicon to their homes? Lost in Lexicon will whisk children away into an interactive and magical world of learning.
This book was sent to Compass Book Ratings for review by Scarletta Press
Lost in Lexicon
by Pendred Noyce
Overall Review:
"Well, now that we're 13, our entertainment needs are more sophisticated." Aunt Adelaide crossed her arms. "I must say I find that tragic."

And thus begins Pendred Noyce's Lost in Lexicon. Thirteen year-old cousins Ivan and Daphne travel through a barn window to another world and begin an adventure—an adventure patterned on the formulaic fantasy that is found in dozens of other children's novels. Although the template is well-worn, the unabashed inclusion of literary terms (iambic tetrameter, anyone?) and math (complete with diagrams) is distinctive. Many young readers will prefer their fiction straight-up and undiluted, but then, Noyce's entire premise is to challenge that thinking head-on. Noyce attempts to not only introduce active engagement of math and language concepts, but to editorialize on the mindless visual and video entertainment that consumes many children. This results in some gear-shifting at the book's half-way point, resulting in less language and math puzzles and more emphasis on the societal commentary. One of the most effective elements Noyce introduces is a gentle lama-like creature, a thesaurus, which subtly expands the vocabulary of the characters. Lost in Lexicon receives high marks for bold, unapologetic, undisguised inclusion of math and language in a fantasy narrative, which is truly unique and fills a niche for educators.

Although the narrative and the characters merit a rating in the 3.5 star range, I am awarding the book a 4 star rating because it brings something original to the table.
Content Analysis:
Violence included a kidnapping; a child being hit over the head with a stick by another child; report of a child with a broken arm; description of a character playing a war-type video game; an old man being tackled.
Mature Subject Matter:
Mature Themes included challenging stereotypes, thinking, questioning, learning, and some societal commentary on the pervasive world of electronics that immerses our current culture.

Alcohol / Drug Use:
***
Reviewed By Cindy