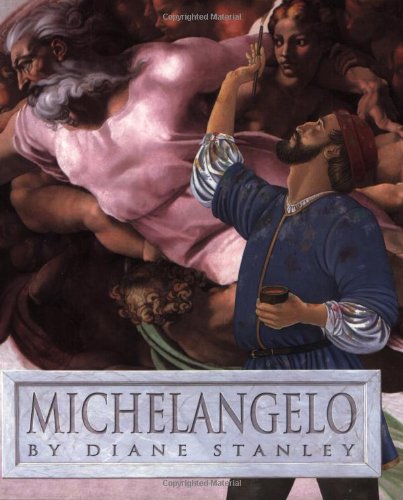 Publisher's Note:
When he was born, Michelangelo Buonarroti was put into the care of a stonecutter's family. He often said it was from them that he got his love of sculpture. It certainly didn't come from his own father, a respectable magistrate who beat his son when he asked to become an artists apprentice.
But Michelangelo persevered. His early sculptures caught the attention of Florence's great ruler, Lorenzo de' Medici, who invited the boy to be educated with his own sons. Soon after, Michelangelo was astonishing people with the lifelike creations he wrested from marble--from the heartbreaking Pieta he sculpted when he was only twenty-five to the majestic David that brought him acclaim as the greatest sculptor in Italy.
Michelangelo had a turbulent, quarrelsome life. He was obsessed with perfection and felt that everyone--from family members to his demanding patrons--took advantage and let him down. His long and difficult association with Pope Julius II yielded his greatest masterpiece, the radiant paintings in the Sistine Chapel, and his most disastrous undertaking, the monumental tomb that caused the artist frustration and heartache for forty years.
With her thoroughly researched, lively narrative and superbly detailed illustrations, Diane Stanley has captured the life of an artist who towered above the late Renaissance--and whose brilliance in architecture, painting, and sculpture amazes and moves us to this day.
Children's Books 2000-NY Public Lib., Books for Youth Editor's Choice 2000 (Booklist), Lasting Connections 2000 (Book Links), Best Books 2000 (School Library Journal), Top 10 Youth Art Books 2000 (Booklist), and Notable Children's Trade Books in the Field of Social Studies 2001, National Council for SS & Child. Book Council
Michelangelo
by Diane Stanley
Overall Review:
Diane Stanley has done what I thought was impossible: she's written a biography of Michelangelo that includes pictures of his most famous works without showing any male genitals! If that's not a concern of yours, there are many other books about Michelangelo available at your public library. If it is a concern, enjoy this brief introduction to the "Master of the Renaissance."
Stanley includes interesting tidbits of information such as why Michelangelo had "the crumpled nose of a prizefighter." She corrects the popular misconception that Michelangelo painted the ceiling of Sistine Chapel while lying on his back. While Stanley doesn't dwell on Michelangelo's faults—perfectionism, rudeness, a scornful manner, pride—she doesn't ignore them either.
The story doesn't have the pull of a fast-paced novel, but by the third page of text, Michelangelo's father beats him to try to force him to give up his dream of being an artist. From there on, the reader is pulled along as Michelangelo serves as apprentice, is fostered by Lorenzo de' Medici, and sculpts, paints, and designs buildings. It's a great way to introduce your teen or tween to one of the greatest artists of all time.
Reading Level: 9.8, range 8.4-11.7.
Of interest to boys and girls.

This review has been acquired and adapted from CleanTeenReads.com.
Content Analysis:
This review was acquired from CleanTeenReads.com on May 15, 2014 and was not completed using Compass Book Ratings' standardized checklist. Nevertheless, it contains useful content information which is included here. The overall number ratings have been approximated based on this information.
2 h*ll—the place
Michelangelo's father tried to beat him to force him not to become an artist; fellow apprentice hits Michelangelo, breaking his nose; mention of assassination of Lorenzo de' Medici's brother; mention of Lorenzo de' Medici's death and the murder of his doctor; Savonarola executed, small picture shows him and others being burned at the stake; pope sent soldiers after Michelangelo when he left Rome; council of Florence feared pope would go to war against city if Michelangelo didn't leave; pope put down rebellion in Bologna; Pope Julius "threatened to have [Michelangelo] thrown from the scaffolding" because he took so long to finish the Sistine Chapel; mention of "the sack of Rome . . . epidemic of the plague, and the deaths of his father and brother"; mention of army that attacked Rome where soldiers were "burning and looting churches . . . murdering priests and nuns and thousands of innocent citizens"; Michelangelo put in charge of fortifications of Florence to keep pope's forces out; Pope Paul III got angry and yelled at Michelangelo; painting of Last Judgment shows "wrathful Christ" with "his right arm upraised as if to smite the wicked"; Michelangelo painted his own face on "the flayed skin held by Saint Bartholomew."
Mention that Michelangelo's "love of sculpture must have come to him along with his foster mother's milk"—she was wife of stonecutter; small illustration of frieze shows nude cherubs, not graphic; mention that Michelangelo "chose to portray" Hercules "in the nude" and that he "did not find the naked body in the least embarrassing, for he had been taught that man was created in the image of God"; a number of bare buttocks shown in drawing of scene where Florentine soldiers were surprised while bathing; Last Judgment originally had naked bodies, but they were later covered with draperies; Michelangelo added naked portrait of man who criticized the painting's naked bodies; Michelangelo "wrote ardent poems" to "a handsome young nobleman."
Mature Subject Matter:
None
Alcohol / Drug Use:
None
Reviewed By CleanTeenReads