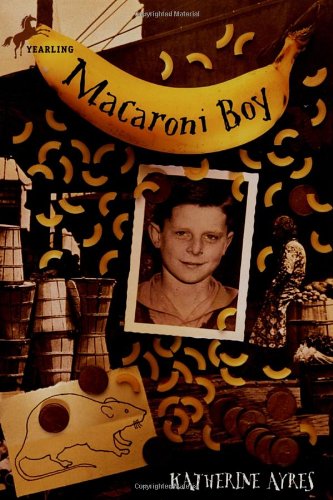 Publisher's Note:
Mike Costa has lived his whole life in The Strip, Pittsburgh's warehouse and factory district. His father's large Italian family runs a food wholesale business, and Mike is used to the sounds and smells of men working all night to unload the trains that feed the city. But it's 1933, and the Depression is bringing tough times to everyone. Money problems only add to Mike's worries about his beloved grandfather, who is getting forgetful and confused.

Mike is being tormented at school by a loud-mouth named Andy Simms, who calls Mike "Macaroni Boy." But when dead rats start appearing in the streets, that name changes to "Rat Boy." Around the same time Mike notices that his grandfather is also physically sick. Can whatever is killing the rats be hurting Mike's grandfather? It's a mystery Mike urgently needs to solve in this atmospheric, fast-paced story filled with vibrant period detail.
Macaroni Boy
by Katherine Ayres
Overall Review:
Sixth-grader Mike Costa has a number of problems:
- His Grandpap's sick, and Mike has seen blood in his vomit.
- The bully Andy Simms keeps calling Mike names and picking fights with him—even at school.
- Mike's not catching any rats at his family's warehouse—they seem to be dying on their own.
- Now two hobos have died beside a warehouse along the Allegany River.
Mike and his friend Joseph are wondering if there's any connection between the dead rats, the dead hobos, and Mike's Grandpap's illness.
I like many things about this story: it's a lively, exciting tale about a boy's day-to-day life; Mike has wise and loving parents; he learns how to solve a problem without fighting, comes to see his own part in his fights with Andy, and even comes to empathize with him.
The story begins with excitement as Andy attacks Mike with rotten apples. Although the story slows down in places, it quickly speeds up again as Mike plots how to get back at Andy, deals with Grandpap's mental failings, witnesses the aftermath of an explosion at a warehouse, learns of the deaths of two hobos, and as he and Joseph piece together the explanation of the dead rats, the dead hobos, and his Grandpap's illness.
Reading Level: 5.0, range 3.3-6.2.
Also good for reluctant readers.
Of interest to boys.
This review has been acquired and adapted from CleanTeenReads.com.
Content Analysis:
This review was acquired from CleanTeenReads.com on May 15, 2014 and was not completed using Compass Book Ratings' standardized checklist. Nevertheless, it contains useful content information which is included here. The overall number ratings have been approximated based on this information.
Bully hits hero with rotten apples; hero threatens to get him back; hero grabs bully, hits him in side of head; bully shoves hero into railing, so hero can't breathe; hero wishes he could kick bully, "mop the floor with him"; hero later tells grandfather, father and uncles about fight, they approve of him fighting, hero's mother doesn't approve; hero plans to throw fish heads and guts at bully; hero found bully "grinding dirt into the mouth of a younger kid" and hit bully, causing a nosebleed; hero's uncle broke two fingers resetting rat traps; hero decides to throw dead rat at bully; grandfather rips cushions off furniture, dumps books off shelf; hero finds decapitated mouse in rat trap; hero fights bully, hitting him in nose, on cheek, getting hit on face and ears, more boys get involved, hero doesn't feel pain, feels better as he fights; principal has wooden ruler to beat disobedient boys on backside; grandfather recounts old fight with pleasure; explosion at banana warehouse blows out wall, windows of warehouses around it, knocks domes crooked on nearby church, no one killed; hero wonders if father will beat him for misbehaving; two hobos die, later believed to have been killed by poison; hero elbows bully hard; hero wishes he could trip a nun, but knows he can't; rat's paw caught in trap but rat still alive; hero wishes he could make bully drink poison water; bully pinches hero's arm twice, hero shoves bully; hero and friend catch bully, try to force him to tell what he ate, bully tries to fight them.
Hero's father offers simple explanation of mother's many miscarriages since hero was born, asks him not to ask for brothers or sisters anymore; hero says women get fat when babies are on the way; mention twice that hero's aunt is pregnant, will "hatch" hero a cousin; hero and friend look at friend's sisters' underpants, slips and bras on laundry day, hero discourages friend from taking one to school to show boys; hero thinks later about the bras, about what kind of underwear the nuns wear, later thinks he shouldn't think about nuns' underwear.
Mature Subject Matter:
Illness, miscarriages
Alcohol / Drug Use:
Men smoke cigarettes, accepted; cigar smoking mentioned, accepted; implication that hero's father drinks smuggled alcohol; moonshine and hooch mentioned, friend's father warns family away from it, mention of how sick it can make people, implication that friend's brothers drink moonshine; friend suggests they taste the moonshine they bought, hero reminds him it might be poisonous; rat gets drunk on moonshine.
Reviewed By CleanTeenReads