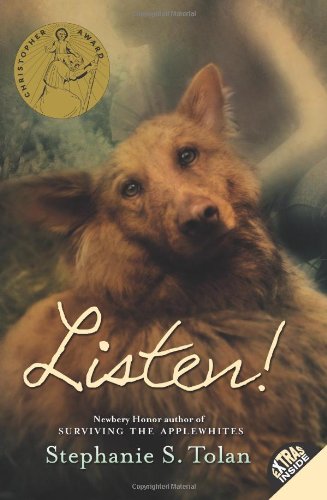 Publisher's Note:
Charley knows a lot about pain. She endures it when she walks on her newly shattered leg, she sees it when her father buries himself in an eighty-hour work week, and she runs from it when she sees photographs her mother took before her death. Then one day, Charley meets a wild, abused dog that knows as much about pain as she does, and, despite herself, she feels an immediate connection and vows to help him. But how will one heartbroken girl help mend the battered spirit of an untamable dog?
Listen!
by Stephanie S. Tolan
Overall Review:
Listen! realistically portrays a twelve-year-old girl, Charley, healing from the pain of her mother's death and her own badly injured leg. Her growth parallels her patient efforts to befriend a wild dog. Animal lovers will eat this book up!
Charley encounters the dog in the first chapter; readers who become involved in Charley's training efforts will find themselves caught up in this gentle tale.

Reading Level: 5, range 3.2-6.6.
Of interest to girls.
This review has been acquired and adapted from CleanTeenReads.com.
Content Analysis:
This review was acquired from CleanTeenReads.com on May 15, 2014 and was not completed using Compass Book Ratings' standardized checklist. Nevertheless, it contains useful content information which is included here. The overall number ratings have been approximated based on this information.
Mature Subject Matter:
Death of a parent
Alcohol / Drug Use:
Adults drink, accepted
Reviewed By CleanTeenReads