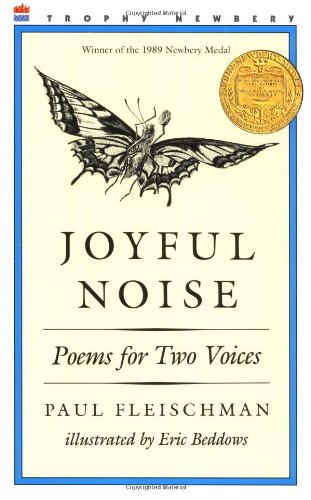 Publisher's Note:
Written to be read aloud by two voices—sometimes alternating, sometimes simultaneous--here is a collection of irresistible poems that celebrate the insect world, from the short life of the mayfly to the love song of the book louse. Funny, sad, loud, and quiet, each of these poems resounds with a booming, boisterous, joyful noise.
In this remarkable volume of poetry for two voices, Paul Fleischman verbally re-creates the "Booming/boisterious/joyful noise" of insects. The poems resound with the pulse of the cicada and the drone of the honeybee. Eric Beddows′s vibrant drawings send each insect soaring, spinning, or creeping off the page in its own unique way.
Paul Fleischman has created not only a clear and fascinating guide to the insect world—from chrysalid butterflies to whirligig beetles—but an exultant celebration of life.
Supports Common Core State Standards
Joyful Noise: Poems for Two Voices
by Paul Fleischman
Overall Review:
This Newbery Award-winning poetry book is written to be read aloud by two voices. Be sure to read the brief explanation in the front about how to read the poems, and give them a try—lively, exuberant, they tell of the lives and thoughts of crickets, fireflies, booklice and more.
Your young reader may need help to pronounce "chrysalis," "cataclysm," "calligraphers," and other challenging words.
This book offers a fun, natural way to introduce either a print or an online dictionary to your child.

Reading Level: can't be determined.
Of interest to boys and girls.
Newbery Award, 1989
This review has been acquired and adapted from CleanTeenReads.com.
Content Analysis:
This review was acquired from CleanTeenReads.com on May 15, 2014 and was not completed using Compass Book Ratings' standardized checklist. Nevertheless, it contains useful content information which is included here. The overall number ratings have been approximated based on this information.
None

Mature Subject Matter:
None
Alcohol / Drug Use:
None
Reviewed By CleanTeenReads