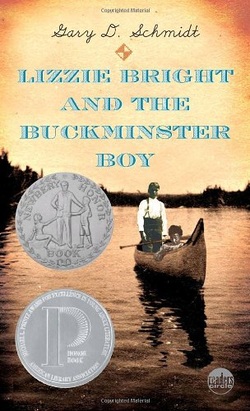 Publisher's Note:
Not only is Turner Buckminster the son of the new minister in a small Maine town, he is shunned for playing baseball differently than the local boys. Then he befriends smart and lively Lizzie Bright Griffin, a girl from Malaga Island, a poor community founded by former slaves. Lizzie shows Turner a new world along the Maine coast from digging clams to rowing a boat next to a whale. When the powerful town elders, including Turner's father, decide to drive the people off the island to set up a tourist business, Turner stands alone against them. He and Lizzie try to save her community, but there's a terrible price to pay for going against the tide.
This book was sent to Compass Book Ratings for review by Random House Children's Books
Lizzie Bright and the Buckminster Boy
by Gary D. Schmidt
Overall Review:
Lizzie Bright and the Buckminster Boy is a very special book. It is by no means a 'feel-good' book, but it is one of the most amazing books I've ever read. Everything in this book is intense; there was not one moment that I was bored or felt like putting it down. Wow. From the intricate relationships of the people to the astonishing personification of the sea breeze, I was totally enthralled. The dynamics of this novel are well thought out and powerful—Turner's growth is phenomenal! He starts off as a boy, and less than a year later he is a man. I don't know that I can even begin to do this novel justice. I loved so many of the characters: Old Mrs. Hurd was my first favorite with her tips on how to fight with the bullies; Mrs. Cobb who starts out as a cantankerous old lady bent on mischief, but who turns out to be a 'kindred spirit' after all; Turner's father who seems so wishy-washy, but proves himself in the end; I loathed Mr. Stonecrop and cringed at a town full of tattle-tales and bigots.

Above all, there is Turner: A boy who begins to question life. He moves to a new place and is not only shunned by the other boys, but watched like a hawk by every single person in the town. There is nowhere to breathe and be a boy within the town, so he goes to the sea…and meets Lizzie Bright Griffin. The relationship between Turner and Lizzie is so heartwarming—and heartbreaking at the same time. Something clicks between them, but you know that somehow it just can't be. I love their banter; their quiet companionship; the way they are breaking societal rules without even realizing or caring. Their innocence is their finest point.

This book is about breaking boundaries. Shedding differences or learned ideas to make room for new ones. Turner does the impossible so often without even realizing it. He befriends the negro community when the whole town despises them; he befriends the old ladies whom everyone else has either shunned or thinks are crazy; he stands against the giants of the town to speak up for what is right; he forgives when he has every right to turn his back.

My heart was broken over and over again as all of the wonderful people and moments in Turner's life are torn away one by one. But the most amazing part of the whole book is Turner's gift of forgiving and letting go. Full of powerful emotion, Lizzie Bright and the Buckminster Boy is a book not to be missed!
Content Analysis:
There is quite a bit of mild profanity. It is all religious. More often than not, they're not exclamations, but petitions or descriptions. There are also some moderate exclamations (between 10-15).
Most of the violence is fairly mild: a character watches a gull scoop up her friend (a crab) and crush it; a character throws a rock up in the air and it hits him in the face and cuts his nose—there is a lot of blood; a character falls down a short cliff and cuts their head open; a character is sent to an insane asylum and the conditions of the asylum are explained (tying them to beds, etc.); a group of boys fight—one character gets a broken nose, another is knocked out; a character holds a shotgun up to another character and fires (he doesn't shoot the person, but pretends to for shock value); a group of people are taken to an insane asylum under threats and at gunpoint; an entire community is forced from their homes; two characters fight—one falls off a cliff (he eventually dies); a character dies of old age; a character dies—reasons unknown.
There is no sexual content.
Mature Subject Matter:
Some of the mild themes are the difficulties of moving to a new place, being considered 'different', lying, and taking dares. The more moderate themes consist of racial prejudice/discrimination, hatred, intolerance, pride, greed, death, and the delicate relationship between a father and a son.
Alcohol / Drug Use:
***
Reviewed By Emily