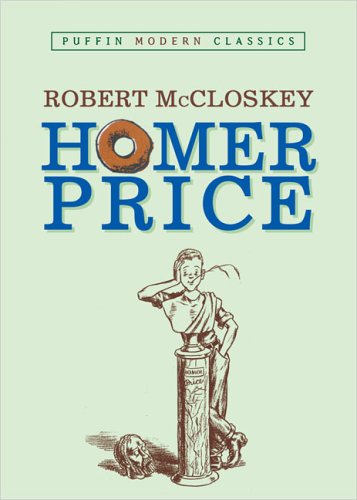 Publisher's Note:
Welcome to Centerburg! Where you can win a hundred dollars by eating all the doughnuts you want; where houses are built in a day; and where a boy named Homer Price can foil four slick bandits using nothing but his wits and pet skunk. The comic genius of Robert McCloskey and his wry look at small-town America has kept readers in stitches for generations.
Homer Price
by Robert McCloskey
Overall Review:
Whether it's robbers stealing prize money, a doughnut machine that won't stop, or a contest to see who has the biggest ball of string, young Homer Price is at the center of the action in the town of Centerburg. Set sometime around the 1930s, these stories humorously present life in a slower, simpler time.
You may need to help your teen or tween understand some of the stories—the boys' gullibility about what the comic book and movie superhero can really do; Uncle Ulysses' fascination with mass production, etc. However, each chapter in the book can stand alone as its own story, so it's possible to skip a story if your reader's not relating to it.
The stories move at a slower pace than many books these days; if you can get your reader to keep reading, they'll likely find stories they'll remember all their lives.
Don't miss Robert McCloskey's delightful drawings that accompany each story!
Reading Level: 6.7, range 4.7-8.0.
Of interest to boys and girls.

This review has been acquired and adapted from CleanTeenReads.com.
Content Analysis:
This review was acquired from CleanTeenReads.com on May 15, 2014 and was not completed using Compass Book Ratings' standardized checklist. Nevertheless, it contains useful content information which is included here. The overall number ratings have been approximated based on this information.
In first chapter, robbers with guns steal prize money and after shave; hero gets their guns, catches them, and marches them to the sheriff, training a gun on them—slapstick. In second chapter, actor who plays a superhero wrecks his car and hurts himself on a barbed-wire fence, not graphic, not seriously injured; mention of some of superhero's exploits, such as getting out of a "box filled with dynamite" that's been dropped in the ocean from an airplane.
Mature Subject Matter:
None
Alcohol / Drug Use:
In final chapter only: town founder made Cough Syrup and Elixir of Life Compound; mention that he gave it to Indians who lived in the area, and they became addicted; one townsperson found asleep and hiccoughing when awakened from having discovered the compound "aged over 100 years in a wooden keg."
Reviewed By CleanTeenReads