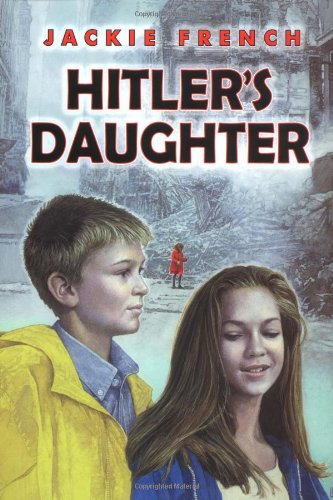 Publisher's Note:
Her name was Heidi, and she was Hitler's daughter.
It began on a rainy morning in Australia, as part of a game played by Mark and his friends. It was a storytelling game, and the four friends took turns weaving tales about fairies and mermaids and horses. But Anna's story was different this time: It was not a fairy tale or an adventure story. The story was about a young girl who lived during World War II. Her name was Heidi, and she was Hitler's daughter.
As Anna's story unfolds, Mark is haunted by the image of Hitler's daughter. He wonders what he would have done in her place if he had known his father was an evil man leading the world into a war that was destroying millions of lives. And if Mark had known, would he have had the power and determination to stop him?
This intriguing novel poses powerful questions about a frightening period in history and will force readers to examine moral issues in a fresh, compelling light.
Hitler's Daughter
by Jackie French
Overall Review:
Anna, a modern-day Australian teen, begins telling her school friends a story about Hitler's daughter, Heidi, a daughter who's kept hidden away because she has a birthmark on her face and a limp. Although Heidi doesn't understand what's happening in Germany, the teens in the frame story fill in the historical gaps for the reader.
The story leads Mark, one of Anna's friends, to ask some hard questions, questions his parents aren't interested in grappling with: How do you know if you should believe what your parents believe? What should you do if a family member is doing something wrong? And how can you know you're doing the right thing?
You may be disappointed as I was that Mark gets few answers to his questions, but the book offers you a chance to discuss Mark's questions with your own teens.
The story gets interesting on page 8 where Anna starts telling the story of Hitler's daughter, but this isn't a story with lots of action. Readers will have to become involved both in Heidi's world and her gradual awakening to what's really going on in Germany and also in Mark's attempts to discuss his questions with adults.
Reading Level: 4.2, range 2.4-6.1.
Also good for reluctant readers.
Of interest to boys and girls.

Awards: Children's Book Council of Australia Book of the Year Award, 2000; Bccb Blue Ribbon Fiction Books Awards, 2003

This review has been acquired and adapted from CleanTeenReads.com.
Content Analysis:
This review was acquired from CleanTeenReads.com on May 15, 2014 and was not completed using Compass Book Ratings' standardized checklist. Nevertheless, it contains useful content information which is included here. The overall number ratings have been approximated based on this information.
1 h*ll
Mention of Nazis torturing people and putting them in concentration camps; mention of six million Jews killed and a total of 11 million people killed; mention of a retarded woman possibly being killed by the Nazis; bombers pass overhead; heroine hears and feels bombings in Berlin from inside Hitler's bunker; heroine hears Hitler yelling; smells "the blood and hatred" of Berlin; soldier killed in front of her—his arm blown off, somewhat graphic; heroine sees dead bodies in Berlin, not graphic; description of fires, bombings, not graphic; heroine falls into a crater, not injured; mention that the Russians have killed someone's sister. Modern-day boy hears radio report about genocide, with death tolls in the thousands; boy dreams of people being killed in Africa, Europe, and Indonesia.
Heroine told that a mother has been "hurt" by Russian soldiers—adults will likely infer that she was raped.
Mature Subject Matter:
Genocide, WWII
Alcohol / Drug Use:
None
Reviewed By CleanTeenReads