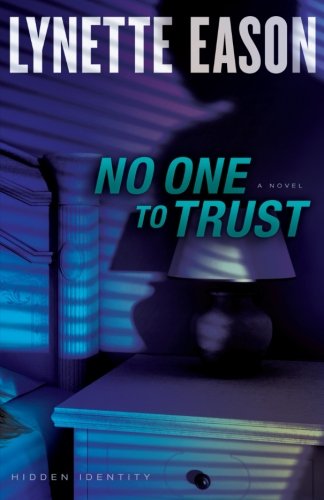 Publisher's Note:
Summer Abernathy wakes up one morning to find her husband missing, three men in her home intent on finding him, and the life she's been living based on a lie. Which Kyle Abernathy did she marry? The computer programmer she met in line at the bank? Or the one who was apparently using that image as a cover story?

The search for her husband--and answers--takes Summer ever deeper into a world of organized crime where people are used one moment and discarded the next. And with her deepest relationship of trust already shattered, Summer doesn't know who to believe.

Always thrilling, Lynette Eason outdoes herself in this taut, breakneck story of lies, loyalties, and love that will have readers up all night to discover the truth hidden in the shadows.
This book was sent to Compass Book Ratings for review by Revell
No One to Trust
by Lynette Eason
Overall Review:
Lynette Eason is writing a new series called Hidden Identity. The first book in this series is No One to Trust. If you have never read a book by Eason, be prepared for lots of action and some who-done-it type mysteries. Characters are often hiding things and are rarely who they seem. Readers will have lots of clues, but no clear pictures until the conclusion of the story. Pretty much all of the questions a reader has are answered by the end.
This book reads quickly and keeps the reader interested in finding out the truth about the people in the story. Peripheral characters in the book have stories that could make novels in and of themselves. Eason has put a great deal of effort into giving all of her characters personalities and life stories. Though there are some romantic elements to the novel, the focus is on moving the plot forward and keeping readers guessing. Grab a copy and find out what happens next!
Content Analysis:
Profanity/Language: None
Violence/Gore: Many instances of people shooting at one another, occasional mention of blood; reports of characters killed by others; people push, shove and hit others; buildings destroyed by bombs; report of an adult breaking a child's jaw and arm; characters threaten to kill others.
Sex/Nudity: Married characters embrace and kiss.
Mature Subject Matter:
Murder, infidelity, child abuse, divorce, addiction.
Alcohol / Drug Use:
A character reflects on an alcoholic parent; character sells drugs.
Reviewed By Susan