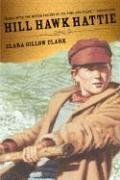 Publisher's Note:
Pa used to call Ma and me his girls. Now, he just says, 'girl,' orders me around with curse words like I'm nothing. I'm not nothing, though, 'cause I feel too mean inside to be that.

The year is 1883, Hattie's ma has died, and it seems that she took with her the sugar that kept Hattie and Pa sweet. Just when Hattie thinks things can't get any worse, Pa stops calling her 'girl' altogether and wants her to dress as a boy and help him on his next river-rafting trip. Soon eleven-year-old Hattie finds herself alongside Pa and two other Hill Hawks, shipping logs down the dangerous Delaware. On the angry river, Hattie's pluck is sorely tested as she fields Pa's criticism, plunges over waterfalls, and tries to keep the rowdy river men from discovering her secret.

Gritty and full of heart, Clara Gillow Clark's historical novel will leave readers breathless as it surges along the complex, emotional journey of a father and daughter. It's a powerful story of how death can undo a family — and how, against all likelihood, it can bind them together.
Hill Hawk Hattie
by Clara Gillow Clark
Overall Review:
Eleven-year-old Hattie Belle Basket feels "mean inside" now that her Ma's dead and her Pa's started drinking heavily. Her Pa doesn't want to listen to her chatter, and he no longer calls her one of his girls, just "girl." Next he's having her wear boy's clothes, calling her "boy," and having her work with him out in the woods.
But a trip down the river on their raft of logs will change Hattie's view of her Pa, change his view of her, and lead to a parting and a new life for Hattie.
Readers will likely find Hattie an intriguing character, full of anger and spunk. Her story gets more lively as she gets boy's clothes and starts to work in the woods with her Pa. It really picks up speed at page 75 as Hattie starts down the river with her Pa; by the time they're negotiating the dangerous rapids on the river, the story is moving as fast as the river. This is an exciting historical adventure!
Reading Level: 4.5, range 2.6-6.5.
Of interest to girls.

This review has been acquired and adapted from CleanTeenReads.com.
Content Analysis:
This review was acquired from CleanTeenReads.com on May 15, 2014 and was not completed using Compass Book Ratings' standardized checklist. Nevertheless, it contains useful content information which is included here. The overall number ratings have been approximated based on this information.
4 h*ll, d*mn
Hattie kicks cow if the cow kicks her, swats her if cow swats her with tail," sometimes . . . hits cow first; kicks cow when she's lying down—finds cow's dead; fears Pa will "whup" her when cow dies; decides she'll threaten to run away if Pa tries to whup her; Pa "yanked [her] off the floor . . . held [her] in the air with one arm," but doesn't cuff or whup her; mention of someone acting like he'd "slammed a finger with a mallet"; man lifts Hattie off the ground, she bites his hand; boy threatens to fight Hattie; Pa cuffs Hattie; Hattie fears they'll all die on river; man tries to fight Pa, tries to punch him, Pa grabs his arm, twists him around, "kicks him in the backside," man falls to the floor; mention that someone tries to get Pa to fight at least once on every trip down the river, that sometimes he fights and sometimes he doesn't; Hattie pushes friend twice; raft comes apart, boy on it falls in water and drowns, somewhat graphic, Hattie later relives and talks about drowning with friend.
Boy kisses Hattie on the cheek.
Mature Subject Matter:
Death of a parent, alcoholism, death
Alcohol / Drug Use:
Mention throughout that Pa "likes to drink hard," comes home on Hattie's birthday "smelling of whiskey, a brown jug under one arm," later Pa disappears and doesn't come home for three days, suggestion that he's "curled up somewhere with his jug"; Pa, man he works with, and teen boy chew tobacco, mentioned twice; Pa chews other times also; Pa offers tobacco to Hattie when he's pretending she's a boy, she takes some once, hates it and can't wait to spit it out, next time she doesn't take it; Pa and partner pass jug back and forth, mentioned three times; Pa and partner don't want to stay at a "temperance" tavern; Hattie think a drink "might help" her and her friend, but none offered; Pa and partner drink in tavern; mention of men "passed out from too much red-eye"; men settle down to drinking; mention that saloons "are no place for girls"; men meet raft with jugs of whiskey.
Reviewed By CleanTeenReads