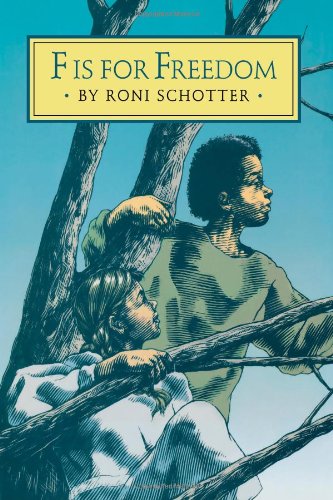 Publisher's Note:
"Reading is freedom," Hannah's mother tells her. "The thoughts in books are powerful strong, stronger even than chains," her father says. When ten-year-old Amanda hears noises in the night, she sneaks downstairs and discovers her house is a stop on the Underground Railroad! During the brief time that Hannah, a runaway slave, hides out in Amanda's house, the two girls become fast friends. Hannah tells Amanda how she intends to be free in EVERY way--including the freedom that comes from knowing how to read and write. Risking everything, Amanda impulsively decides to help. Crackling with suspense, this moving, accessible story says much about the power of friendship and the power of literacy.
F is for Freedom
by Roni Schotter
Overall Review:
When ten-year-old Manda investigates the strange noises she hears in the night, she's amazed to see people climbing out of grain sacks—a family of runaway slaves. Suddenly her parents who've never approved of lying or her play-acting need her help to head off the county constable.
Manda's astonished at the idea that Hannah was owned by her Master's daughter and that she was "whupped" for trying to read a book. When Hannah makes Manda a corn husk doll, Manda decides to give Hannah a present too—a reading lesson. But when Manda and Hannah decide to disobey and play outside, their disobedience puts both families in danger.
The story starts out quickly on the first page. Brief descriptions interrupt the action, but the story generally moves along quickly as the new friends meet, spend one day together and then must part.
At times, Manda's family seems to have twenty-first century attitudes about the runaways, insisting that they are equals, for example. However, I think a tween will experience nothing jarring and will enjoy this brief introduction to the Underground Railroad and the importance of literacy.

Reading Level: 6.1, range 3.9-7.5.
Of interest to girls.
This review has been acquired and adapted from CleanTeenReads.com.
Content Analysis:
This review was acquired from CleanTeenReads.com on May 15, 2014 and was not completed using Compass Book Ratings' standardized checklist. Nevertheless, it contains useful content information which is included here. The overall number ratings have been approximated based on this information.
Violence - Mostly threatened rather than actual; runaway girl mentions a "whupping" for trying to read a book; the runaways are hunted by the county constable and by a slave catcher with dogs.
Mature Subject Matter:
Slavery
Alcohol / Drug Use:
Three times runaways' baby given special drops to make her sleep, so she doesn't cry and reveal where they are.
Reviewed By CleanTeenReads