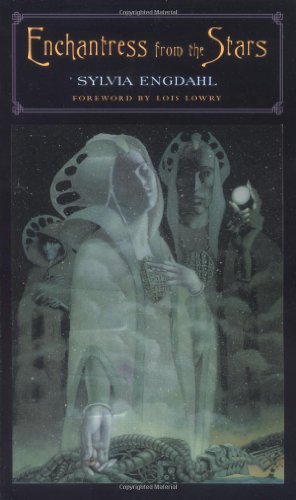 Publisher's Note:
Elana, a member of an interstellar civilization on a mission to a medieval planet, becomes the key to a dangerous plan to turn back an invasion. How can she help the Andrecians, who still believe in magic and superstition, without revealing her own alien powers? At the same time, Georyn, the son of an Andrecian woodcutter, knows only that there is a dragon in the enchanted forest, and he must defeat it. He sees Elana as the Enchantress from the Stars who has come to test him, to prove he is worthy. One of the few science fiction books to win a Newbery Honor, this novel will enthrall teenage and adult readers.
Enchantress from the Stars
by Sylvia Louise Engdahl
Overall Review:
Three narrators present different views of the invasion of a Youngling planet inhabited by humans: Elana represents the advanced civilization that wants to stop the invasion; Jarel is a medical officer with the invaders; and Georyn is a woodcutter's son from the Youngling planet.
Elana and Jarel must learn to be brave; Georyn must learn to use his own mental powers—powers that to him are magical. And Elana and Georyn must somehow learn to say goodbye to each other.
Part science fiction and part fairy tale, the book gives each narrator a unique voice and point of view.
The three-page Prologue is a bit slow but provides useful background information. The first chapter presents all three narrators and begins with lively action; the story continues at a good clip as Georyn and his brother perform the tasks set them by the Starwatcher, and as Georyn finally has to face his greatest task—conquering the dragon. The story is beautifully written and thought-provoking.

Reading Level: 8.8, range 8.0-10.7.
Of interest to boys and girls.
Awards: Newbery Honor Book, 1971; The Phoenix Award, 1990
This review has been acquired and adapted from CleanTeenReads.com.
Content Analysis:
This review was acquired from CleanTeenReads.com on May 15, 2014 and was not completed using Compass Book Ratings' standardized checklist. Nevertheless, it contains useful content information which is included here. The overall number ratings have been approximated based on this information.
Expedition member is vaporized; natives who fight the invaders are temporarily paralyzed by a stunner; native tries to fight invaders and is vaporized; heroine stops human sacrifice and undergoes trial by fire; hero knocked senseless in a scuffle—not graphic; heroine tries to be killed rather than reveal her secrets; hero fights against dragon.
Mature Subject Matter:
Loyalty, ethics.
Alcohol / Drug Use:
None
Reviewed By CleanTeenReads