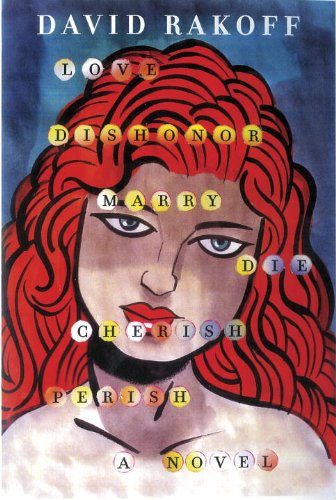 Publisher's Note:
From the incomparable David Rakoff, a poignant, beautiful, witty, and wise novel in verse whose scope spans the twentieth century

Through his books and his radio essays for NPR's This American Life, David Rakoff has built a deserved reputation as one of the finest and funniest essayists of our time. Written with humor, sympathy, and tenderness, this intricately woven novel proves him to be the master of an altogether different art form.

LOVE, DISHONOR, MARRY, DIE, CHERISH, PERISH leaps cities and decades as Rakoff sings the song of an America whose freedoms can be intoxicating, or brutal.

The characters' lives are linked to each other by acts of generosity or cruelty. A daughter of Irish slaughterhouse workers in early-twentieth-century Chicago faces a desperate choice; a hobo offers an unexpected refuge on the rails during the Great Depression; a vivacious aunt provides her clever nephew a path out of the crushed dream of postwar Southern California; an office girl endures the casually vicious sexism of 1950s Manhattan; the young man from Southern California revels in the electrifying sexual and artistic openness of 1960s San Francisco, then later tends to dying friends and lovers as the AIDS pandemic devastates the community he cherishes; a love triangle reveals the empty materialism of the Reagan years; a marriage crumbles under the distinction between self-actualization and humanity; as the new century opens, a man who has lost his way finds a measure of peace in a photograph he discovers in an old box—an image of pure and simple joy that unites the themes of this brilliantly conceived work.

Rakoff's insistence on beauty and the necessity of kindness in a selfish world raises the novel far above mere satire. A critic once called Rakoff "magnificent," a word that perfectly describes this wonderful novel in verse.
Love, Dishonor, Marry, Die, Cherish, Perish: A Novel
by David Rakoff
Overall Review:
I haven't read any fiction poetry books ever in my adult life. Non-fiction, yes, but not fiction. I didn't really know what I was in for. Luckily, this was a slim book--otherwise I would have never picked it up after first glance. The cover was pretty, and that was what caught my interest initially. There are plenty of readers out there who will thoroughly enjoy this book. I, however, am not one of them. I tried my hardest to appreciate the writing. It was really impressive that the author could write a whole book in rhyme, but the book just didn't speak to me. It fell flat. I lost myself in the rhythym of the words and just couldn't focus on what they were saying. And, dare I admit? I got the distinct feeling that I was reading a Dr. Seuss book! Which made me chuckle.
The stories in this book are deep. They do have a meaning, but it was hard for me to "get" them. (I know people appreciate it, because I read reviews on GoodReads, just to see what other people thought or if I was alone in my thoughts.) Something that really touched me was the fact that David Rakoff passed away not long after this book was finished. I believe he died just weeks after he personally narrated the audiobook version. Now that is dedication.
Content Analysis:
Profanity/Language: 1 religious exclamation; 3 derogatory names; 1 F-Word derivative.
Violence/Gore: A man is mentioned to be trampled by horses; a baby is said to be cursed; animals and their injuries/blood is mentioned briefly.
Sex/Nudity: Adults kiss; nudity is mentioned briefly in a slightly sexual way with some brief innuendo; sex between adults is mentioned briefly, non-descriptive; touching and caressing between adults.
Mature Subject Matter:
Death
Alcohol / Drug Use:
Adults drink.
Reviewed By Lydia