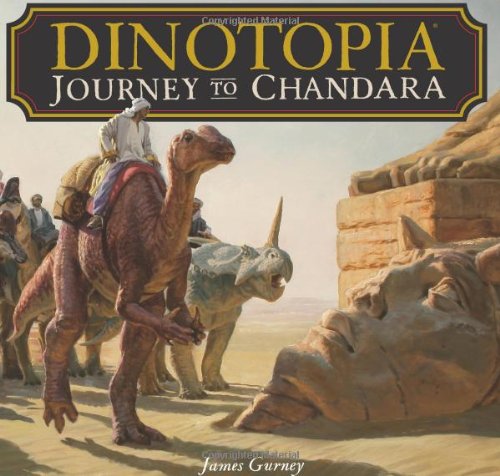 Publisher's Note:
Critics have gushed over Gurney's phantasmagorical creation, likening him to such venerated literary fantasists as Jules Verne, Wells, and J. R. R. Tolkien." -People magazine

The fourth book in James Gurney's best-selling Dinotopia series transports readers to an enthralling world of art, science, exploration, and invention, where humans and dinosaurs live peacefully together.

Dinotopia Guide
Return to James Gurney's Dinotopia A Travelers Guide Characters Locales Dinotopia Map Dinotopia Dinosaurs Dinotopian Games Sample Pages About James Gurney James Gurney's Art James Gurney Video Endorsements Tour Schedule James Gurney's Blog

In the spirit of Marco Polo and Gulliver's Travels, Dinotopia: Journey to Chandara recounts the journal entries and adventures of explorer Arthur Denison and dinosaur Bix as they explore the exotic eastern realm of James Gurney's Dinotopia.

* A visual masterpiece featuring more than 100 works of breathtaking new art, Dinotopia: Journey to Chandara joins the original Dinotopia: A Land Apart from Time and Gurney's two other series creations, Dinotopia: The World Beneath and Dinotopia: First Flight, in exploring a fully rendered world, complete with its own language, geographic locations and history, and confluence of cultures and characters.

* The original Dinotopia: A Land Apart from Time achieved New York Times best-seller status, translated in 18 languages in more than 30 countries and inspiring an Emmy Award-winning television miniseries.

* Gurney is the recipient of seven Chesley Awards from the Association of Fantasy Artists, two Hugo Awards from the World Science Fiction Convention, and Best of Show from the Art Director's Club.
Dinotopia: Journey to Chandara
by James Gurney
Overall Review:
James Gurney has published three "journals" of the Victorian explorer Arthur Denison's travels in the land of Dinotopia. In Denison's third adventure, he and his friend Bix, a talking dinosaur, set out to visit the eastern city of Chandara, long closed to visitors. Their journey takes them through swamps, deserts, and mountains; through exotic cities—some bearing resemblances to places such as Egypt and Tibet—and some utterly fanciful settlements.
His books contain travel entries, cutaways of fantastic and more prosaic structures, and always gorgeous paintings of dinosaurs, both real and imaginary.

This is a great book to read together. Since the captions are in a script typeface, a reluctant reader may need your help reading them.
The story doesn't have a lot of "pull" to it; it's the artwork that makes this book exciting.

Reading Level: 8.9, range 7.0-10.2.
Also good for reluctant readers because of wonderful pictures.
Of interest to boys and girls.
This review has been acquired and adapted from CleanTeenReads.com.
Content Analysis:
This review was acquired from CleanTeenReads.com on May 15, 2014 and was not completed using Compass Book Ratings' standardized checklist. Nevertheless, it contains useful content information which is included here. The overall number ratings have been approximated based on this information.
None

Mature Subject Matter:
None
Alcohol / Drug Use:
None
Reviewed By CleanTeenReads