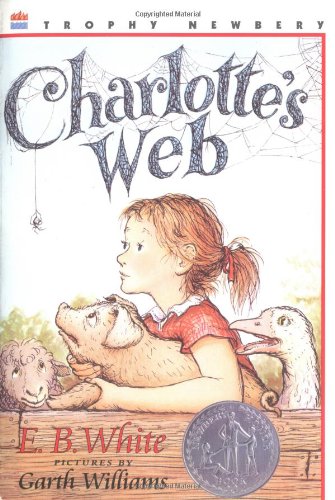 Publisher's Note:
This beloved book by E. B. White, author of Stuart Little and The Trumpet of the Swan, is a classic of children's literature that is "just about perfect."
Some Pig. Humble. Radiant. These are the words in Charlotte's Web, high up in Zuckerman's barn. Charlotte's spiderweb tells of her feelings for a little pig named Wilbur, who simply wants a friend. They also express the love of a girl named Fern, who saved Wilbur's life when he was born the runt of his litter.
E. B. White's Newbery Honor Book is a tender novel of friendship, love, life, and death that will continue to be enjoyed by generations to come. It contains illustrations by Garth Williams, the acclaimed illustrator of E.B. White's Stuart Little and Laura Ingalls Wilder's Little House series, among many other books.
Supports the Common Core State Standards
Charlotte's Web
by E.B. White
Overall Review:
Has your teen or tween already read the book or seen the movie?
Invite them to join E. B. White for a lively repeat visit to Zuckerman's farm that brings to life Fern, the little girl; Wilbur, the pig; Templeton, the rat; and, of course, Charlotte, the ingenious spider who saves Wilbur's life.
This story moves at a leisurely pace most of the time, with livelier moments such as when Wilbur gets out of his pen. If you can get your kids to listen, they'll likely be hooked. Great for a long car trip!
Reading Level: 4.7, range 2.8-6.2.
Of interest to boys and girls.
Newbery Honor Book, 1953.
Also Suggested:
Of course, you can't go wrong with the print edition of Charlotte's Web (Trophy Newbery)
either. Be sure to choose an edition with Garth Williams' delightful illustrations.
This review has been acquired and adapted from CleanTeenReads.com.
Content Analysis:
This review was acquired from CleanTeenReads.com on May 15, 2014 and was not completed using Compass Book Ratings' standardized checklist. Nevertheless, it contains useful content information which is included here. The overall number ratings have been approximated based on this information.
Daughter realizes father intends to kill runt pig, tries to take ax from father; brother has air rifle and wooden knife; geese know rat will kill gosling if he can; pig learns he'll be killed in the fall; spider describes and demonstrates catching a fly and drinking its blood; boy tries to catch spider, falls and breaks rotten egg instead; spider tells story of fish caught in spider web; pig dreams of men attacking him "with knives and guns"; rat claims pig's owner will kill him; rat bites pig's tail to revive him; pig wakes rat by tossing him in the air with snout.
Mature Subject Matter:
Death, farm life.
Alcohol / Drug Use:
None
Reviewed By CleanTeenReads