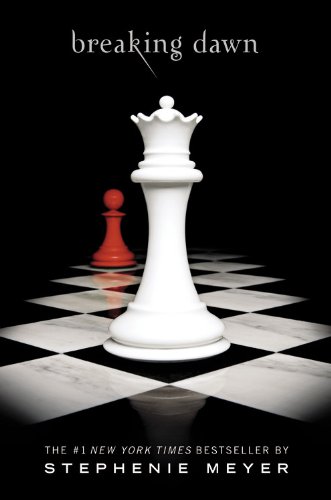 Publisher's Note:
When you loved the one who was killing you, it left you no options. How could you run, how could you fight, when doing so would hurt that beloved one? If your life was all you had to give, how could you not give it? If it was someone you truly loved?

To be irrevocably in love with a vampire is both fantasy and nightmare woven into a dangerously heightened reality for Bella Swan. Pulled in one direction by her intense passion for Edward Cullen, and in another by her profound connection to werewolf Jacob Black, a tumultuous year of temptation, loss, and strife have led her to the ultimate turning point. Her imminent choice to either join the dark but seductive world of immortals or to pursue a fully human life has become the thread from which the fates of two tribes hangs.

Now that Bella has made her decision, a startling chain of unprecedented events is about to unfold with potentially devastating, and unfathomable, consequences. Just when the frayed strands of Bella's life-first discovered in Twilight, then scattered and torn in New Moon and Eclipse-seem ready to heal and knit together, could they be destroyed... forever?

The astonishing, breathlessly anticipated conclusion to the Twilight Saga, Breaking Dawn illuminates the secrets and mysteries of this spellbinding romantic epic that has entranced millions.
Breaking Dawn
by Stephenie Meyer
Overall Review:
In the final novel of the bestselling Twilight series, almost everything you expect does happen: Bella and Edward get married; Bella becomes a vampire herself; and there's a confrontation with the Volturi, the leaders of the vampires. Many things you might not expect also happen: Bella has a half-vampire child, she finds she has vampirish talents, and the love triangle with Jacob is resolved in an unexpected way.
One of the most unexpected elements in the book is the big increase in the steaminess of the story. Although Meyer stops short of describing Bella and Edward's actual consummation of their marriage, what she does describe is passionate.
The beginning of the book was not as lively, but by page 118, the story takes off, quieting down a bit in the middle and then charging along again till the final chapter.
Good for reluctant readers.
Of interest to boys and girls.
Reading Level: 6.1 (range 4.3-7.7).
This review has been acquired and adapted from CleanTeenReads.com.
Content Analysis:
This review was acquired from CleanTeenReads.com on May 15, 2014 and was not completed using Compass Book Ratings' standardized checklist. Nevertheless, it contains useful content information which is included here. The overall number ratings have been approximated based on this information.
h*ll and d*mn, cr*p, b*tt—reviewed before counted the number of times each word is used.
There's more talk about violence and preparing for violence than actual violence; some of the vampires who gather to help the Cullens do hunt humans—not explicitly described. Detailed description of the pain of turning into a vampire, detailed description of Bella's first hunt for animals as a vampire, including drinking blood of a mountain lion and a deer; vampire killed by fire, not graphic.
Lots of passionate kissing, some mentions of nudity, sexy lingerie mentioned, mention of bruising acquired during sex, some talk about how enjoyable sex is—both as a human and a vampire—stops short of explicit descriptions of petting or sex; Edward, Bella's husband, suggests to Jacob that he father a child with Bella, so she'll agree to abort her half-vampire baby. Talk of menstruation, tampons mentioned, morning sickness, pregnancy, the possibility of an abortion, childbirth—of a half-vampire child—including a detached placenta, an emergency C-section without anesthetic, with a vampire needing to break open the womb with his teeth, and the near death of the mother.
Mature Subject Matter:
Death, Vampires
Alcohol / Drug Use:
None
Reviewed By CleanTeenReads