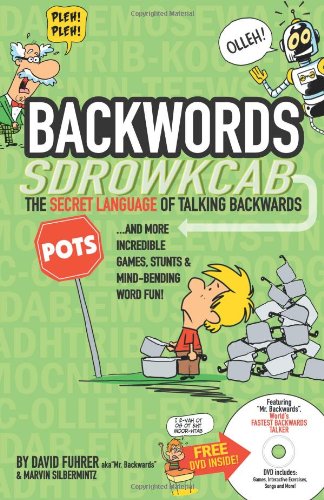 Publisher's Note:
Ever since he was a child, David "Mr. Backwards" Fuhrer has had the rare ability to speak backwards as fast and as easily as others speak forwards. In this book, the author shows youngsters how to impress their peers – and confound their parents – by mastering this unusual skill.
Backwords not only teaches the amazing art of speaking backwards, it reveals a world of crazy word jokes, trivia, cartoons and games that will amuse and amaze people of all ages including:
—Backwards talking and other secret languages to speak with your friends!
—Tongue Twisters to tangle your tonsils!
—Tips to win at Hangman every time!
—Hysterical anagrams and much, much more!
—Create a lifelong love of word and language fun with Backwords!The accompanying free DVD contains jaw–dropping demonstrations by Fuhrer, Guiness World Record holder for talking backwards. Also included are games, challenges and tips to master your backwards speaking skills.
Backwords: The Secret Language of Talking Backwards and More Incredible Games, Stunts and Mind-bending Word Fun!
by David Fuhrer and Marvin Silbermintz
Overall Review:
When you were a child, did you and your friends say each other's names backwards? Then you'll understand the fun to be had with the book Backwords.
The World's Fastest Backwards Talker will guide your child into the wacky world of talking backwards. The book also includes chapters on palindromes, upside-down words, other secret code languages, and the book is full of other word jokes and puzzles.
On the DVD that comes with the book, author David Fuhrer demonstrates his ability to speak backwards and explains how your teen or tween can do it too. They can even learn to sing "Happy Birthday" backwards—and amaze family and friends!


Reading Level: 4.8, range 2.9-6.9.
Of interest to boys and girls.

This review has been acquired and adapted from CleanTeenReads.com.
Content Analysis:
This review was acquired from CleanTeenReads.com on May 15, 2014 and was not completed using Compass Book Ratings' standardized checklist. Nevertheless, it contains useful content information which is included here. The overall number ratings have been approximated based on this information.
None

Mature Subject Matter:
None
Alcohol / Drug Use:
None
Reviewed By CleanTeenReads