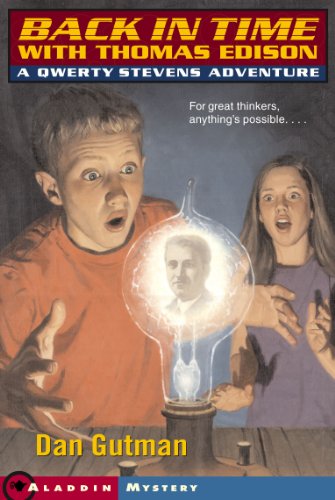 Publisher's Note:
Robert Edwards Stevens, nicknamed "Qwerty," likes digging in his backyard when he's in a bad mood. He doesn't dig for anything special -- he just digs to get his mind off things. One day, when he's really angry and has a lot on his mind, he starts digging...and THUNK! He hits something, a wooden box with a famous signature:
Thomas A. Edison

Is this a phonograph created by the famous inventor himself? Or is it something even more incredible -- something that could take Qwerty right to Thomas Edison's doorstep? Get ready for one remarkable time-travel adventure!
Back in Time with Thomas Edison
by Dan Gutman
Overall Review:
When thirteen-year-old Qwerty digs up a box that's been buried in his backyard in West Orange, New Jersey, he hooks it up to his computer and finds that he and his sixteen-year-old sister Barbara can travel to other places.
Then one night, he gets a Morse code message on his computer—from Thomas Edison himself! Edison needs Qwerty to bring him something from the twenty-first century.
Qwerty and Barbara both end up in 1879 and get to witness the invention of the light bulb and learn about some of Edison's other inventions, his work methods, his assistants and his home life.
The ending has an improbable element: because Qwerty teaches basketball to someone in the past, his father wasn't killed in an accident. However, this problem is minor and doesn't change the value of the rest of the novel.
The story moves forward quickly, enlivened by two subplots in the present: the police presume the kids have been kidnapped, and a bad guy uses the machine to travel back in time in order to invent modern conveniences first.
Reading Level: 5.1, range 2.8-6.3.
Also good for reluctant readers.
Of interest to boys and girls.
This review has been acquired and adapted from CleanTeenReads.com.
Content Analysis:
This review was acquired from CleanTeenReads.com on May 15, 2014 and was not completed using Compass Book Ratings' standardized checklist. Nevertheless, it contains useful content information which is included here. The overall number ratings have been approximated based on this information.
2 G*ds

Argument with mother mentioned—they disagree about whether hero had permission to do something; one of Edison's assistants slugs another.

Hero wants to visit the locker room of the Dallas Cowboys cheerleaders; sister thinks one of Edison's assistants is "hot"; sister positions herself to get kissed.
Mature Subject Matter:
None
Alcohol / Drug Use:
Edison smokes a cigar, mentioned a number of times; spits bits of it onto the floor, accepted.

Reviewed By CleanTeenReads