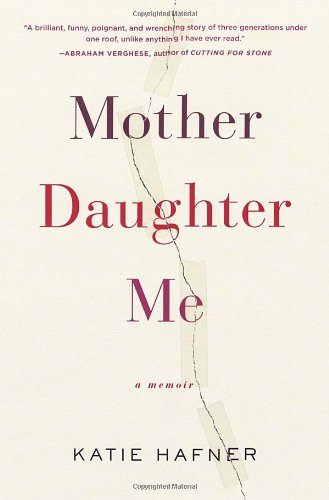 Publisher's Note:
"Book of the Week" - Oprah.com
One of Ten "Titles to Pick Up Now" by O Magazine
One of Five Top Non-Fiction Reads for Summer 2013 by Parade Magazine
"The Best Memoir I've Read This Year"- The New York Times, Motherlode Blog
"Next for Your Reading List" - The Atlantic
July 2013 Goodreads "Mover and Shaker"
and now a Bay Area Bestseller

The complex, deeply binding relationship between mothers and daughters is brought vividly to life in Katie Hafner's remarkable memoir, an exploration of the year she and her mother, Helen, spent working through, and triumphing over, a lifetime of unresolved emotions.

Dreaming of a "year in Provence" with her mother, Katie urges Helen to move to San Francisco to live with her and Zoë, Katie's teenage daughter. Katie and Zoë had become a mother-daughter team, strong enough, Katie thought, to absorb the arrival of a seventy-seven-year-old woman set in her ways.

Filled with fairy-tale hope that she and her mother would become friends, and that Helen would grow close to her exceptional granddaughter, Katie embarked on an experiment in intergenerational living that she would soon discover was filled with land mines: memories of her parents' painful divorce, of her mother's drinking, of dislocating moves back and forth across the country, and of Katie's own widowhood and bumpy recovery. Helen, for her part, was also holding difficult issues at bay.

How these three women from such different generations learn to navigate their challenging, turbulent, and ultimately healing journey together makes for riveting reading. By turns heartbreaking and funny--and always insightful--Katie Hafner's brave and loving book answers questions about the universal truths of family that are central to the lives of so many.
This book was sent to Compass Book Ratings for review by Random House
Mother Daughter Me: A Memoir
by Katie Hafner
Overall Review:
I received an advance copy of this book just in time for Mother's Day. Though I am not a mother (and frankly, have no desire to be), I am quite fortunate to still have my mother, and I know I take her presence in my life for granted every single day. My mother recently lost her mother, and though we don't talk about it a whole lot, I know she had a lot of love and respect for her mom. I, too, love and respect my mother. Not only is she super patient in almost any situation, she has successfully raised five children and is, yet again, in the process of raising another. Mothers are precious, but we can easily look over their roles and hard work. Taking time to appreciate them is something I think we should do every day, instead of once a year, but I digress.
In Mother Daughter Me Katie Hafner doesn't only focus on her mother. She also introduces us to her own daughter, and lets us take an extremely intimate look at how these three relationships intertwine and tangle. The tough childhood she describes is not something I can directly relate to, but I do understand some of the friction that evolves and sneaks its way into the relationship between Katie and her mother, and in turn, Katie's daughter.
This is a wonderful book that I would recommend to mothers and daughters alike. This book reminded me in some ways of Brave Girl Eating by Harriet Brown, which is also a great book that takes a peek at the dynamics surrounding mother/daughter relationships. And I must add--Katie gets a big round of applause from me for her honesty in the writing of this memoir. Not only did it take guts, but she seems to be in the process of making amends with her mother, and things that she may have done to hurt her. That is a courageous act.
Content Analysis:
Profanity/Language: 2 religious exclamations; 6 mild obscenities; 4 scatological words; 1 anatomical term.
Violence/Gore: A man is mentioned to have died from a health issue; a mother is verbally abusive.
Sex/Nudity: Minors kiss; an adult couple lives together unmarried; a porn magazine is mentioned briefly with no descriptive detail; a woman has an affair, but no details are provided; divorce is mentioned.
Mature Subject Matter:
Adult relationships, divorce, alcoholism.
Alcohol / Drug Use:
Adults drink; minors drink; prescription drug abuse mentioned; smoking dope mentioned.
Reviewed By Lydia